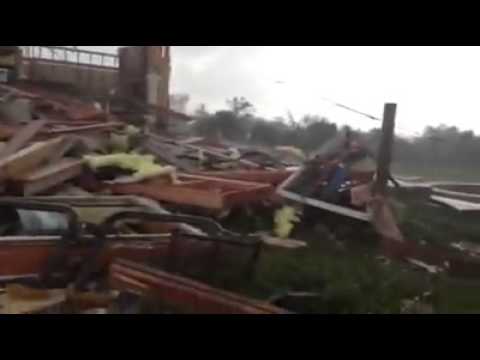 Just before noon Monday, my two younger children and I drove along Interstate 35 through Moore, Okla., under a bright sky. It's impossible to comprehend the grisly scene along that same path now.
Ironically, I had spent the weekend in Texas reporting on tornado relief efforts in the Lone Star State. That meant we missed the first round of tornadoes in my home state of Oklahoma on Sunday. But with more severe storms predicted the next afternoon, we left my parents' house near Fort Worth first thing Monday morning, hoping to make it home to Oklahoma City — about 200 miles north — before the next batch of bad weather.
We missed the disaster south of Oklahoma City by three hours and 20 miles.
I work on the north side of the city. About the same time as the twister ravaged suburban Moore, tornado sirens sounded outside my office window. Hail and rain soaked my shirt as I rushed to take cover in a nearby auditorium. But this part of the city escaped with no major problems. Our fellow Oklahomans were not so fortunate.
As television images revealed the severity of the destruction — and loss of human life — a journalist friend let me know a major national news organization was looking for freelancers.
"You game?" my friend asked in an e-mail.
"I don't have it in me," I wrote back. "Sorry."
"Me neither," my friend replied.
The gigantic headline on today's front page of The Oklahoman newspaper screamed:
WORSE THAN MAY 3RD
For Oklahomans, May 3 — as in May 3, 1999 — needs no explanation.
Forty-four people, including three children, died and hundreds more were injured as dozens of tornadoes swept across the state that tragic day 14 years ago. That night, I ignored a tornado warning and raced to a south Oklahoma City hospital to interview victims. I was younger and stupider and had more journalistic adrenaline back then.
I also covered the April 19, 1995, bombing of the Oklahoma City federal building, which claimed 168 lives.
But after Oklahoma's latest tragedy, I have no desire to grab my reporter's notepad and start interviewing victims.
I'm just numb.
In recent years, I've reported from the scenes of disasters such as Hurricane Katrina, the Joplin, Mo., tornado and, most recently, the fertilizer plant explosion in West, Texas.
But as a friend from New Orleans noted in a Facebook message to me, "It is so close to your home. It makes it different than going 'out there' listening to others' stories. When it is in your own backyard, it changes the face of it — so much. I know you have been through it before, but it never gets easier."
If anything, it gets harder.
The only thing that makes it easier is that the nation — once again — is about to see what makes Oklahoma and its people so special.
My Twitter feed has been a blur of links to news stories and images telling the mostly heartbreaking — but occasionally inspirational — story of the Moore tornado.
Expect the faith and resiliency of Oklahomans to figure heavily in the coverage of this disaster.
From a Reuters story: