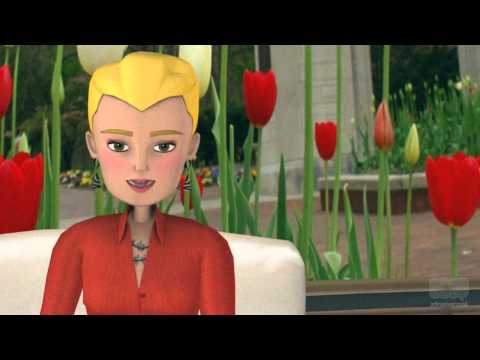 I already used this YouTube as art in a post last week but it really fits for this story. Really fits. In the clip above, Lutheran Satire makes fun of the type of "Catholic" used by the media in stories about the Roman Catholic Church.
Somehow this video was stripped of satire, transformed into print and placed directly onto the pages of the Washington Post. It's uncanny.
You can watch the video above but some people had trouble hearing the dialogue, so I'll sum up and quote from it. The premise is that we're watching "the latest edition of everybody's favorite ecclesiastical game show Choose Your Pope: the game where bishops compete for the right to be selected the supreme pontiff by a representative from the uneducated court of public opinion."
The contestant is Kaylee McMurphy:
A recent college graduate, Kaylee earned a BA in Advanced Feng-Shui Marketing. A self-described way-devoted super-Catholic, Kaylee has attended mass almost 7 times — therefore making her opinions on the theological direction of the Catholic church entirely valid and perfectly worthy of public attention.
The contestants are Cardinals Ouellet, Turkson and Scola.
McMurphy: "Question #1: Since I have absolutely no interest in knowing the scriptural and historical reasons for the male only priesthood, and since my Religious Worldviews in the Feminist Paradigm professor told me that, like, five of the apostles were totally women, I think the Catholic Church is finally ready for women priests. You guys agree, right?"

Ouellet: "No."
Turkson: "No."
Scola: "No."

McMurphy: "Whatever. Question #2: Like most devout Catholic women who don't go to Mass and don't believe anything the Church says, I use birth control because babies are a lot of work and my boyfriend and I totally need to re-tile our master bathroom. That's cool with you guys, right?"

Ouellet: "No."
Turkson: "No."
Scola: "No."

McMurphy: "You guys are lame. Question #3: I like the aesthetics of the Catholic Church but don't like its theology. I support no-fault divorce, abortion rights, gay marriage, gender-neutral language, and think that it's mean to criticize Islam. I couldn't be more of a liberal Episcopalian if Katherine Jefferts-Schiori formed me from the dust from the ground, and yet I still inexplicably identify myself as a Catholic."