Leonardo da Vinci sketched, but never built, this mechanical marvel, blending elements of harpsichord and viola to create something so far ahead of its time it was never built.
Until now: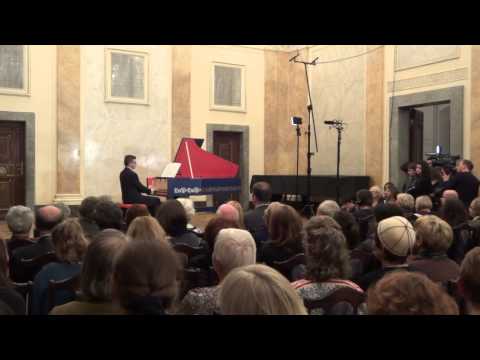 Called a "viola organista"' and looking like a steampunk baby grand, it's been built by a Polish pianist and mechanic named Slawomir Zubrzycki. As he says: ''This instrument has the characteristics of three we know: the harpsichord, the organ and the viola da gamba."
The lid is inscribed with a quote from St. Hildegard: ''Holy prophets and scholars immersed in the sea of arts both human and divine, dreamt up a multitude of instruments to delight the soul."
More from The Age:
The flat bed of its interior is lined with golden spruce. Sixty-one gleaming steel strings run across it, similar to the inside of a baby grand.

Each is connected to the keyboard, complete with smaller black keys for sharp and flat notes. But unlike a piano, it has no hammered dulcimers. Instead, there are four spinning wheels wrapped in horse-tail hair, like violin bows.

To turn them, Zubrzycki pumps a pedal below the keyboard connected to a crankshaft. As he tinkles the keys, they press the strings down onto the wheels, emitting rich, sonorous tones reminiscent of a cello, an organ and even an accordion.

The effect is a sound that da Vinci dreamt of, but never heard; there are no historical records suggesting he or anyone else of his time built the instrument he designed.

A sketch and notes in da Vinci's characteristic inverted script is found in his Codex Atlanticus, a 12-volume collection of his manuscripts and designs for everything from weaponry to flight.

''I have no idea what Leonardo da Vinci might think of the instrument I've made, but I'd hope he'd be pleased,'' said Zubrzycki, who spend three years and 5000 hours bringing da Vinci's creation to life.