Scot Landry of the Archdiocese of Boston and The Good Catholic Life gives us a great look at that all-important Sistine Chapel Chimney:
This article from Fox News describes the placement of the chimney by firefighters:
On Saturday, a handful of firefighters climbed onto the Sistine Chapel's roof and installed the top of the chimney. Inside Michelangelo's frescoed masterpiece, construction workers staple-gunned the felt carpeting to the false floor that has been erected over the chapel's stone floor.
From Catholic News Service, actual video of the chimney being installed: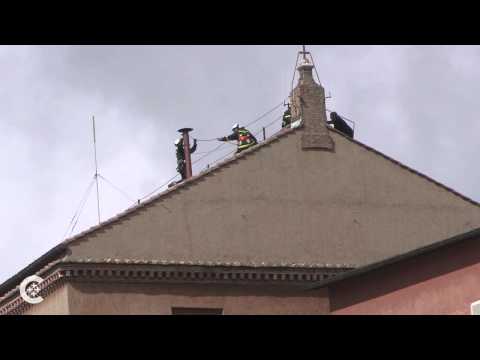 And just because you can, go ahead and follow the Papal Smoke Stack's Twitter account…  apparently NBC is doing so.
(Disclaimer: I know that smoke stack is not really tweeting because the Vatican has installed cell phone signal jammers…