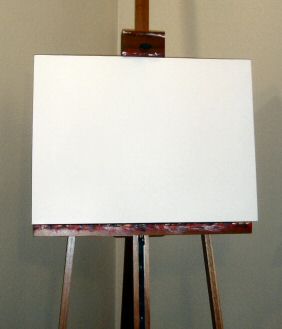 One of my favorite writer-bloggers, Tim Dalrymple, has put up a post entitled "The Church is Not Your Canvas." In this column, he interacts with a piece I wrote for The Pastor's Workshop, a collection of my essays for pastors and other church leaders. My recent essay asks pastors the question: "How Do You Talk About Your Church?" I look closely at how Paul and his co-writers talk about the church of Thessalonica in the letter we know as 1 Thessalonians.
Here's an excerpt from Dalrymple's thoughtful post:
As Dr. Roberts makes clear, the church is not a playground for the pastor's talents.  It is not the canvas on which the pastor creates his masterpiece.  The church does not exist for the pastor, and the church is not about the pastor.  The church is a work of God, through the gospel, and through the transformation the gospel works in our lives.  If the church is a stage, then we are at best the supporting cast.  If we focus upon ourselves when we're telling the stories of our churches, then we've lost the narrative — because we've forgotten the identity of the protagonist.  As Rick Warren famously said, "It's not about you."  While God's intimate care for each individual is mind-shattering, the story of salvation is ultimately not about us.  It's about God.  The story of the church is not about us, either.  And the story of an individual church is not about the pastor.
There are all sorts of images we might use to communicate this.  Perhaps it's best to say that the pastor is not the artist; the pastor is the brush, and the canvas.  The pastor is an instrument in the hands of God, a vessel for God's creative and redemptive act, and then the pastor too is one of the re-created and redeemed.  The Artist is always God, and we are blessed to be an both an instrument in his hands and the object of his exquisite care.
You can see why I like Dalrymple's thinking and writing.
His blog is worth regular visits
.
By the way, "How Do You Talk About Your Church?" is part four of a multi-part series I'm calling A Master Class for Pastors. I'm looking to the Apostle Paul as a master pastor to teach us how to shepherd God's people in God's way. You can find all parts in the Master Class here.