I lack a sports gene. Also, I've been crushingly busy. Consequently, I have been slow to follow the monstrous story coming out of Penn State and slow to absorb the full horror of the thing. Colleen Carroll-Campbell sums things up succinctly through:
According to the grand jury report, Penn State defensive coordinator Jerry Sandusky spent years using his reputation as a celebrated football coach and community do-gooder to sexually prey upon disadvantaged boys. What's worse, a string of witnesses came across Sandusky in compromising positions with young boys and either ignored his behavior or reported it to athletic authorities instead of police.

In the most egregious case recounted in the report, a 28-year-old graduate assistant found Sandusky raping a 10-year-old boy in the football building's shower room. The assistant's reaction? He left the scene and told his father, who advised him to tell head coach Joe Paterno, who told athletic director Tim Curley, who heard the assistant's testimony along with Gary Schultz, the university's senior vice president for finance and business. Curley then told university president Graham Spanier. No one told police.

This infantile rendition of the classic telephone game did nothing to stop Sandusky, who remained free to abuse boys for nearly 10 more years. Last week, Sandusky finally was arrested and Curley and Schultz were charged with perjury and child endangerment.

The Penn State scandal is yet another reminder that when it comes to the problem of sexual crimes against children, an in-house solution is no solution at all. Predators thrive in environments where cowardice or concern for appearances trumps a commitment to justice, where protecting the reputations of adults takes precedence over defending the innocence of children. And the story always ends the same sad, sordid way, with a final revelation of the truth that shatters a community's trust and leaves an entire institution tarnished in its wake.

If the Catholic Church's painful experience in this area can offer any lesson for others, it is this: Genuine love for and loyalty to an institution never demands the sacrifice of a child's safety or innocence. Anyone who believes otherwise does not belong in a position of authority.
I find it stunning–still, after all these years of appalling revelations from Catholics (both ass-covering bishops and laity who did nothing when the abuse against their own children was discovered)–that people need to be told, "When a crime is committed against a kid, you call the cops." If it were an isolated incident, that would be one thing. But that this happens over and over across a wide cross-section of people having nothing in common but membership in the species homo sapiens, I start to wonder what it is about us that makes us hesitate to confront the face of outrageous evil.
Recently, I had a conversation with somebody who believed they had a ton of evidence of sexual abuse, criminal wrongdoing, conspiracy, etc. against a wide variety of unnamed clerics, bishops, etc. This person contacted me for reasons I am still unclear about, other than that I have a blog and a big mouth. As we talked, I kept trying to make clear that no matter how much stuff this person sent to my email box allegedly proving their claims, I was in no position to do anything about it since I did not know this person, nor could I verify whether the documentation they sent me was genuine or a clever forgery since I am, at the end of the day, a guy sitting in his room with a computer, not a professional investigator or even a reporter. They told me how they were allegedly being stonewalled by sundry clerics and so forth and asked what I could do to help. Finally, I said, "Why not just go to the cops?"
Why not just go to the cops? Why don't people do that first when they are confronted with a gross crime?  Why contact a blogger 2000 miles away?
I suspect some of it has to do with power. People are afraid they will be made to pay for blowing the whistle. It's not an unreasonable fear. The spectacle of savagery in Pennsylvania because Coach Beloved got canned for not reporting the rape of a child to the law is one of the more depressing displays of NIMBYism I have seen in some time. Whistleblowers have reason to fear that sort of irrational hatred. And so, like it or not, people *do* fear for their careers, *do* fear the hatred of the mob, and *do* think first, "Maybe I can just pass this on to somebody higher up the institutional chain of command."
We saw similar things with Father Beloved over the past decade: for every bishop who engaged in ass-covering, there were two parishes gathering round Fr. Beloved when his disgusting crimes were uncovered and saying he was being persecuted and they would stand by him through thick and thin. We saw it very recently (and still are witnessing it) with the people who savaged Fr. Corapi's accuser.  I have the hate mail from Corapi zealots to prove it.  We saw it with Clinton.  We are seeing with Herman Cain.
My point is not "Herman Cain is guilty of sexual abuse."  I have no idea what the facts of the case are.  But then neither do those who are busying themselves attacking his accusers and defending him.  That's the point: People don't wait till investigations have shown the facts about the merits of the case. They pick a side and start attacking the Enemy.
When the one you love is accused, everybody is certain they know who the *real* guilty party is: the accuser.  When it's somebody you don't know and evil is exposed, everybody is sure they are a hero who would have beaten the living hell out of the wrongdoer, deposited his sorry ass on the doorstep of police headquarters, and confronted the Forces of Institutional Inertia who protected him with oh-so-bold prophetic righteousness. This is particularly easy for the courageous denizens of blogospheric comboxes who are fantastically good at comparing themselves favorably to whatever Emmanuel Goldstein the media serves up for this day's 15 Minute Hate.
But though lots of combox warriors are quite adept at fantasizing about how bravely they would have behaved and how vile Mike McQueary is in comparison to their brave selves, how they would have taken a baseball bat to Sandusky had they caught him in flagrante, the reality is that, if the Milgram experiments are any indication, a huge percentage of people are pretty well programmed to avoid trouble with authority figures rather than open a can of whupass. Sorry, but that's the stuff we fallen humans are made of, as our first Pope learned when he confidently declared, "Though everyone else deny you, I will never deny you."  Indeed, despite the flattering and heroic picture so many Laptop Ninjas have of themselves, righteously battling evil with flawless martial arts moves and utter rectitude like Buffy and Angel, the real picture of fallen humanity given to us by revelation is that of the apostles in Gethsemane on Holy Thursday: big talk, sleepiness while Jesus sweats blood, a brief show of bluster and bravado against the wrong person (resulting in a severed ear) and then bolting, ass-saving panic such that one of the disciples peeled out of his clothes and ran off naked rather than defend the innocent from evil authority figures.  That story is painful to read because that story is a paradigm, not an isolated incident.  It has been replayed again and again down the centuries and we chicken shits in comboxes boasting about our courage over Those People Over There know it damn well.  That's why we talk so big.
So I look at McQueary and think, "There but for the grace of God go I." Recall that his awful discovery and act of cowardice all happened before the sex abuse scandal in the Church brought the issue to the fore of public consciousness and gave them a chance to think "How should I prepare to react if I ever encountered something like this?"  Recall that McQueary just stumbled on the scene and was flummoxed. People do weird things in such situations. I hope I would have instantly assessed the situation and, like Buffy and Angel, cleaned Sandusky's clock, kicked his ass into next week, and called the cops. But had I been in McQueary's shoes at the time and place, who knows? If the evidence of, not just bishops and clerics (and the apostles of Jesus Christ), but even the parents of victims is any indication, people often respond to monstrous acts of evil by… doing nothing, or trying to kick the problem upstairs to somebody in a position of power who will make it alright and not drag them into further trouble. The fight or flight reaction tends to favor flight since fight often gets you dead or injured.  People gripe that McQueary was a big strong guy and should have manned  up and kicked butt.  So was Peter.  But when the big buff fisherman was confronted by a serving maid with the words, "Are you not also one of his disciples?" he displayed utter cowardice and then went and wept bitterly as the cock crowed.
More than this, though, is something beyond fear–something much more powerful: a perverted understanding of love. It is relationship, far more than fear, that makes people avoid trouble. Sandusky is your friend. Sandusky is your colleague. Sandusky is beloved. Sandusky is charming. Sandusky has done all this charitable work.  Surely there's an explanation. We don't have to instantly go nuclear with cops. Something can be worked out. He means well, but he's "troubled". He's one of our guys. Children are resilient. I couldn't live with myself if I destroyed the guy's career. He's done a lot of good things too, you know. It will kill his family.
And so forth. For ten more years. We are built for relationship and we have to be very hard-pressed to take the step of destroying it. And we cling to relationship even in the case of very weak relationships.
Case in point: Some time back, a family I know was confronted with the fact that their former dentist had performed thousands and thousands and thousands of dollars of unnecessary and painful surgery on them (root canals), inflicting great suffering, doing crappy work that must now be repaired at still further cost, and robbing them of the money they might have used for college for their children and savings for themselves.  He did this to hundreds of patients.  Had he been a thug in an alley robbing the family of that much money and threatening them with that kind of pain, the father of  that family would have been justified in shooting him in self-defense.  But the dentist did it with warm smiles and ingratiating chit chat and a veneer of Christian bonhomie and professional competence over the years, so that his victims formed a relationship with him and trusted in his good will.  Consequently, when the incontrovertible evidence of his fraud, physical abuse, and theft was made clear to this family the wife, being a great soul full of love and charity, immediately began to try to find some way to believe he couldn't be the monster he so clearly was.  It's perfectly natural.  They were in a relationship with this crook and abuser and so she tried to find some way to save the relationship first, rather than immediately do what they finally realized they had to do: sue the crooked abusive bastard.
So we rationalize about those with whom we have a relationship–even a very tenuous relationship like dentist/patient–while people who are not part of the relationship are able to make an instant evaluation in hindsight: call the freakin' cops! Don't kick it upstairs and think that's good enough! The guy raped a boy in front of your eyes!  The guy did dozens of unnecessary root canals, preyed on your trust, hurt you and your family, and irreparably harmed your future (the father will, barring a miracle, never be able to retire and never be able to provide much help to their kids college careers or a nest egg for his wife should he die.  The dentist's insurance company will only pay a small fraction of what he stole).
It's much the same dynamic behind why a woman will let herself be beaten by her man or make excuses for her drunken daughter while her friends, who have no relationship with hubby and daughter, beg her to call the cops. It's not crass monetary self-interest. It's a twisted idea of love and the dread that no relationship is worse than an abusive one.  It's the belief that, surely, there's been some mistake.  Maybe we're the one at fault for being judgmental, etc.
All this is also, by the way, something that is much *more* likely to happen *away* from an institutional setting than in one.  Case in point: the amorphous, emphatically non-hierarchical culture of radical egalitarian anarchy of OWS, where the policy is, in case of rape, don't call the cops. This is how, in many families, mafiosi, and loosely affiliated groups, Things Are Done–precisely because they lack the institutional machinery to file complaints, enforce rights, and get traction.  It's all run on personal relationship–and therefore prey to our chronic inability to challenge personal relationship.  Institutions, for all their failings (failings I have no desire to downplay in the least, particularly in the Church), typically have some way to help the victim pursue justice, because institutions create distance between people and allow some objectivity to find its way in–albeit very imperfectly as Penn State and the Catholic Church demonstrate.  Indeed, precisely what failed was that, in the case of the Church and Penn State, the institutional machinery that existed and which should have called the cops instead was jammed and personal relationship was allowed to trump that machinery in its proper functioning.
The insidious evil of priestly sexual abuse is that priests are, in a way that a coach is not, entirely ordered toward relationship. They relate God to man and man to God. To betray that relationship is uniquely evil–demonically evil. It preys on the deep desire to trust and remain in relationship that is already deeply built into us, even with such a low level relationship as that between a person and their dentist. That's why so many victims and their parents were so slow, for so long, to do what those outside the relationship see instantly (and rightly) should have been done: call the cops. I hope those outside the relationship can refrain, however, from boasting about how much better they would have done in their shoes till they actually stand in them.
Gedankenexperiment: Think about your best friend or most beloved and trusted family member. Now imagine yourself stumbling in on them in sexual congress with a 10 year old boy. Tell me true, could you instantly hit them with a baseball bat? Would you really be able to snap from "I believe and trust in you as a decent person" to calling the cops in seconds? I submit that if you easily answer "Yes" you probably haven't really thought carefully about how powerful relationships–even pretty weak relationships–can be. Very few people have what it takes to display the courage to lose a friend or loved one for the sake of righteousness. So let's not boast too much about how much better we'd have handled it than Mike McQueary (who, to his credit, did at least blow the whistle).  I suspect most people would try to kick it upstairs if they were in McQueary's shoes. Doesn't make it right. It just illustrates (if further illustration were needed) why that sacrifice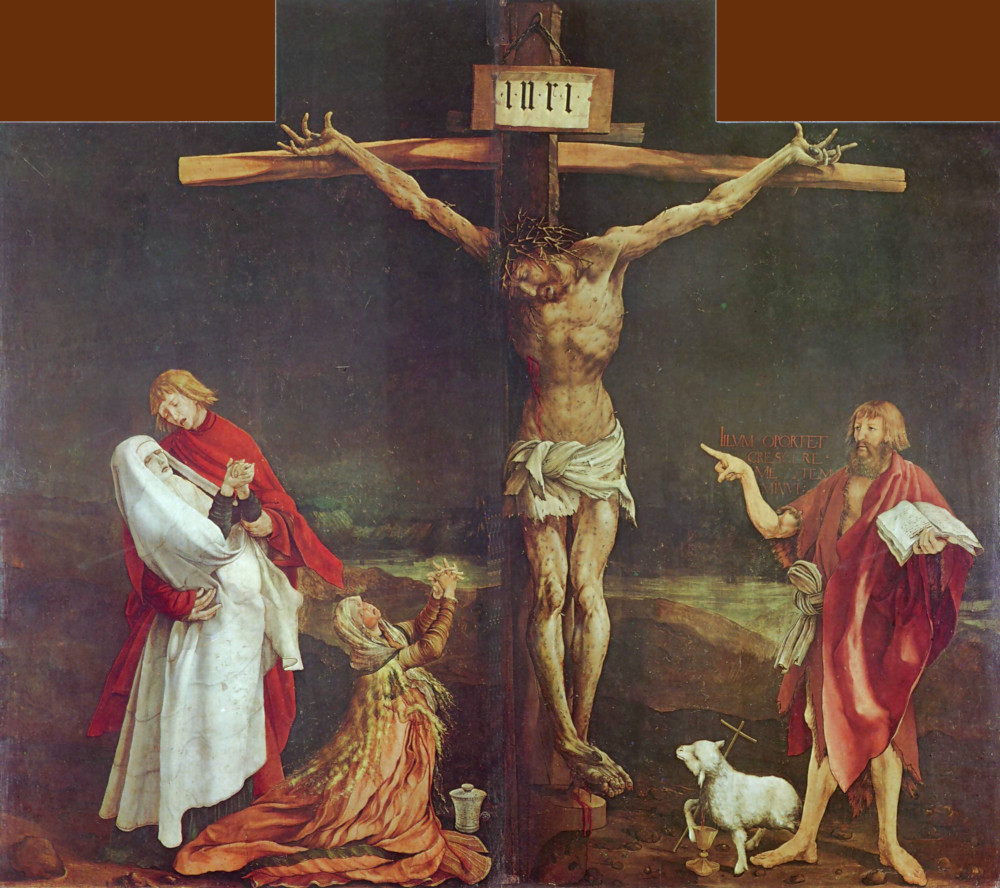 was necessary to redeem us. We are a deeply depraved race of, among other things, miserable cowards.  But that's just as true of us as it is of That Guy Over There.
May God give healing to Sandusky's victims through Christ the Great Victim and may the Crucified One grant grace and salvation to Sandusky and to all who enabled him and looked the other way. Sin is what you died to expiate, Lord Jesus. Let not your sacrifice be for nothing but bring salvation, mercy and glory even out of this, to the glory of your Name, Father, Son and Holy Spirit.