We are called to a day of fasting and prayer today for marriage and religious freedom. 
I think this is an excellent way for us to clear our minds and settle down into this new post Christian reality in which we live. We can no longer look to the larger culture to teach our children our values. We can no longer look to the society around us to give us courage and sustain us in our Christian walk. 
In this new reality, Christians are going to have to look to one another for their support in this life. We all must rely more on God and less on the government and our larger society to be our strength and our guide. 
I don't think this has sunk in on most of us yet. Prayer and fasting, repentance and asking, are the best ways for us to begin to face this new reality. 
Here is a prayer from the USCCB. I plan to pray it several times today, along with the Divine Mercy Chaplet. 
Prayer In Defense Of Marriage
God our Father, we give you thanks
for the gift of marriage: the bond of life and love,
and the font of the family. 
The love of husband and wife enriches your Church with children,
fills the world with a multitude of spiritual fruitfulness and service,
and is the sign of the love of your Son, Jesus Christ, for his Church.
The grace of Jesus flowed forth at Cana at the
request of the Blessed Mother. May your Son,
through the intercession of Mary, pour out upon us
a new measure of the Gifts of the Holy Spirit
as we join with all people of good will
to promote and protect the unique beauty of marriage.
May your Holy Spirit enlighten our society
to treasure the heroic love of husband and wife,
and guide our leaders to sustain and protect
the singular place of mothers and fathers
in the lives of their children.
Father, we ask that our prayers
be joined to those of the Virgin Mary,
that your Word may transform our service
so as to safeguard the incomparable splendor of marriage.
We ask all these things through Christ our Lord,
Amen.
Saints Joachim and Anne, pray for us.
Bride and groom, praying before their wedding.
I think we've exhausted the emotional discussion about Tuesday's Supreme Court decision.
Now is a good time to turn to prayer. Propitiously, it is still the Fortnight for Freedom and tomorrow is Friday. The American bishops have called us all to a day of prayer and fasting tomorrow for the intention of marriage and religious liberty. For you Protestants out there, "intention," when it's used in this context simply means that what you are fasting and praying for is marriage and religious liberty.
Fasting does not mean that you go without food and water. It means that you abstain from eating meat. You can eat fish. You can eat cheese, eggs and other sources of protein. The whole purpose is to exercise a bodily discipline as a form of prayer and penitence.
That word "penitence" brings me to something I think we should all consider, and that is how we have failed personally in our fidelity to Christ. I am going to concentrate to my failings in terms of marriage and religious freedom. I haven't divorced anyone, and since my religious conversion I have moved ever steadily toward a Jesus orientation on these things. The Catholic Church and its teachings have been both a guide and a source of strength in this regard.
However, I did a lot of things back in my anti-religion period that contributed to the mess we are in now. I've repented, gone to confession, been forgiven. But the knowledge that I did them has given me a slightly more generous take on those who are making the same mistakes now that I did then. I know that if God can convert me, he can convert anyone. I also understand that you can't know what motivates another person to do the things they do.
All you can do is pray for them. That, based on the reaction to a post I wrote earlier this week, is something I think we should all try to do more of. We cannot change the world for Christ by destroying those who do things we see as sinful. We have to convert them. The only way to do that is to remember, always, that they are people in need of God's love and that the only Jesus some of them may ever see is one of us.
I am asking each of you to join the bishops tomorrow in a day of prayer and fasting for marriage and religious freedom. You might also consider asking God to use you in the battle that lies ahead. But remember: He can not and will not do that unless you yield it all to Him, including your pride and anger. This kind of yielding is not a once for all thing. You have to go back and do it again over and over almost every day you live.
We've got work ahead of us, people. It's not a matter of changing laws so much as it is winning hearts. The best way to do that is to begin by letting God change our own hearts.
Friday Fast for Life, Marriage

June 28, 2013

St. Irenaeus

Greetings!

Thank you for participating in the Bishops' Call to Prayer for Life, Marriage, and Religious Liberty! 

 

This week was a big one for marriage. Today's reflection is on St. John the Baptist, a witness to marriage – to the death.

We're still in the Fortnight for Freedom, coming into the second week. Remember to visitwww.fortnight4freedom.org for latest news!

  

Intention

For the courage to keep witnessing to the truth and beauty of marriage, the lifelong, fruitful union of one man and one woman.

Reflection

  

St. John the Baptist, whose birth we celebrated on Monday June 24, was a martyr for truth and justice, particularly the truth about marriage. He was put in jail, and ultimately executed, because he rebuked Herod for marrying his brother's wife, Herodias (see Mt 14:3-12 and Mk 6:17-29). St. John the Baptist's defense of marriage cost him his head.

In his Angelus address on Sunday, June 23, Pope Francis said of the saint, "He died for the sake of the truth, when he denounced the adultery of King Herod and Herodias. How many people pay dearly for their commitment to truth!"

Today, standing up for the counter-cultural truth of marriage as the lifelong, fruitful union of a man and a woman can be difficult and lonely. But Christ is always with us and asks us to be witnesses of His loving truth, which is worth defending, no matter what the cost. As our Holy Father exhorted the crowd, "Forward, be brave and go against the tide! And be proud of doing so."

St. John the Baptist, pray for us.

Did you know?

On Wednesday of this week, the Supreme Court struck down part of the federal Defense of Marriage Act (DOMA) and refused to rule on the merits of a challenge to California's Proposition 8. In a statement, Cardinal Timothy Dolan and Archbishop Salvatore Cordileone called Wednesday "a tragic day for marriage and our nation." They said, "Now is the time to redouble our efforts" in witnessing to the truth of marriage.

Learn more about Proposition 8 and DOMA from this backgrounder.
I could try to sugar coat today's ruling. I could also try to minimize what I think its impact will be. However, that would not be honest. I can only write what I think. Anything else would be a lie. 
We are, as Catholics, going to have to unravel today's Supreme Court ruling a bit and absorb it. Only after we do that can we "Keep Calm and Catholic On" as some people advise.
First, we need to know what we are keeping calm about and what we are Catholicing on in the face of. Here, for what it's worth, is my first take. I reserve the right to alter this as time goes on and I learn more. For now:
I think today's Supreme Court ruling that DOMA is unconstitutional on the basis of equal protection is a watershed. 
It tips the table over and opens the way to reorganize our society along destructive lines. While today's ruling does not legalize gay marriage by fiat, it creates a pry-bar that will open the doorway to creating a de facto legalization in practice. 
Many of the impacts of today's ruling are going to come pretty fast. Federal institutions will change how they deal with marriage almost over night. The pressure for states to comply will also begin almost immediately.
There are far-reaching implications to federal law that tunnel their way into the corners of almost every state activity. Given that the proponents of these changes are well-funded, supported absolutely by the media and now by federal law, I believe that things are going to get increasingly dicey for anyone who wants to take a stand for traditional marriage. 
We already have a number of examples, many of which I have written about extensively on this blog, of how the "right" to gay marriage quickly becomes a "right" to infringe on other's freedoms. This ruling, with its broad-ranging basis in equal protection, will open the way to legal arguments favoring even more forceful infringements of our religious liberties. 
Politically, I believe that this ruling and the movement behind it are going to create another fracture in the body politic. I will be surprised if we do not see the two political parties line up along these fault lines. Those of us who go to the polls and vote will be pushed, as we have been with abortion, to vote according to these social issues rather than other things such as the continuous cycle of wars, and the growing threat of economic bankruptcy of our nation. 
If I'm wrong, and nothing changes, I'll be only too happy — ecstatic, in fact — to say so. 
I am not saying these things from a place of despair. I do not feel anything like despair. What I feel is a determination to stand for my Church and for Jesus, come what may. There is nothing that is final in this life except death itself, and even that is only final in this life. We can heal our culture, but we have to begin by healing ourselves. 
This is our time, and these are our challenges. 
There are a few things I'm going to ask you to do:
1. Face facts. This is our situation. So be it. 
2. Pray for those who oppose us. If you do this, it will not only help them, but it will take the anger out of you and let you think clearly. It will also give you the strength and determination Christians are going to need. 
3. Give yourself time to be upset. Take a few days and feel it through. Then, get over it and get back into the battle. Do not fight yesterday's war.
4. Focus on your own family first. In particular, how are you going to protect your children from the propaganda in our culture? 
Here is a brief analysis from the Maddowblog on MSNBC. I chose them because, while all of the media have become gay marriage advocates, MSNBC seems to be speaking almost directly for the leadership in this movement. As such, they give us a good look at what these activists are thinking and planning. 
It will take some time to digest the significance of the Supreme Court's ruling striking down the Defense of Marriage Act, but as MSNBC's Adam Serwer noted

 , the "likely consequences for same-sex couples who until now have been denied legal recognition by the federal government are difficult to overstate."
Families headed by married same-sex couples will now be recognized by the federal government as families. Servicemembers fighting for their country in far off lands will not have to worry about their spouses being denied benefits. The same-sex spouses of Americans who are not U.S. citizens will not be denied green cards on the basis that their marriages don't count.
But there was something that NBC News' Pete Williams said this morning that's also worth keeping in mind. For those who can't watch clips online:
"The interesting thing here is that the court has said that DOMA is unconstitutional as a matter of equal protection — meaning that it's discriminatory. Now, the importance of that is, if the Supreme Court had struck it down on a narrower basis — by saying for example that the federal government doesn't have the power to determine what a marriage is, that's a matter for the states — that would have been a very narrow ruling.

"This is a very broad ruling. If the Supreme Court is saying here that the federal government can't make distinctions between same-sex and opposite-sex couples in terms of what marriages the federal government will recognize, then this is an opinion that can be used by proponents of same-sex marriage to attack laws in other states."
It can and will be used exactly that way, and for marriage-equality supporters, it suggests the DOMA ruling in U.S. v. Windsor is not only a breakthrough victory today, but it will continue to offer opportunities for further victories fairly soon.
 For a different take on the ruling, check out Keep Calm and Catholic On by Joanne McPortland. 
Congress shall make no law respecting an establishment of religion, or prohibiting the free exercise thereof; or abridging the freedom of speech, or of the press; or the right of the people peaceably to assemble, and to petition the Government for a redress of grievances.
Was Michael Hastings the last American journalist?
Given the all-in-for-the-government way the press has approached the "security breach" that allowed American citizens to know that their government had them — almost all of them — under surveillance, I think that is a fair question.
Thomas Jefferson said, "Our liberty depends on freedom of the press, and that cannot be limited without being lost."
A J Liebling said, "Freedom of the press belongs to the man who owns one."
Has the corporate-owned press ceased to be free? Is it just a mouthpiece for various interests and ideologies? Why would the free press be so completely in support of putting millions of innocent Americans who have committed no crime and have not been accused of committing a crime under government surveillance?
Are they stupid? Do they not see the parallels between this kind of draconian government surveillance of its citizens and every police state nightmare of both history and fiction?
Why are they taking the government line like a bunch of trained chimps instead of asking questions and digging for facts like reporters? Do they ever leave their studios and go out and find the news, or do they just wait for the news to come to them and then "report" (read) it as it comes in? Getting together with a few, carefully selected, "experts" to comment on the latest press release that you just read on the air is not reporting.
The CSPAN interview below gives a glimpse of Michael Hastings and the kind of work he did. It makes no difference what conclusions you draw from the information Mr Hastings gave you. The point is that he gave you the information. That's a journalist's job. Deciding what to do with the information is your part of the free press equation.
All this leads me to ask again: Was Michael Hastings the last American journalist?
Frank Weathers, who blogs at Why I am Catholic, wrote a post that echoes one I published a few days ago discussing a Pew Research study that indicated media bias in the reporting of gay marriage.
It seems that Pew Research is not alone in its assessment that there is a media bias in favor of gay marriage. As I've said in the past, the media is not so much "biased" in favor of gay marriage, it is hard-selling it.
The post about the Pew study engendered a plethora of irate comments on this blog. It appears that at least some people who favor gay marriage do not want to hear anything that even tangentially disagrees with it. That seems to include statistical studies by reputable research firms that simply state what is obvious to almost everyone: The media is biased in favor of gay marriage.
The comments on that particular post rolled downhill until we had people from atheist blogs jumping over here to inform us that God is genocidal and Christians are … some of the usual Christian-bashing things they call us. I deleted quite a few comments, particularly those that said ugly things about either homosexuals or Christians. I also deleted the nasty slams at me, my family, faith and heritage because I had deleted the insulter's previous comments, as well as the suggestions that I perform anatomically impossible sex acts.
All these angry comments came because I put up a post talking about a Pew Research study saying the press coverage of the Supreme Court hearings on gay marriage was biased.
Now Frank Weathers has jumped into the fray with one of his excellent posts. Frank, unlike me, does not suffer fools. He only allows comments that advance the Kingdom. I've been wondering if perhaps he's not on to something. After all, the purpose of Public Catholic is to do exactly that: Advance the Kingdom.
So why do I continue tolerating these invidious comments? I do it in the hope that there will be an educational component in letting the Christians who read this blog — and from what I can tell, my readership tilts decidedly toward the Christian — see a bit of what's out there.
I encounter Christians all the time who are living in a fool's paradise about what the world is like vis a vis their faith. They live inside a circle of Oklahoma protection where they seldom encounter a flat-out Christ hater. I, on the other hand, get pummeled and attacked on my job for my faith on a regular basis. I am not exaggerating one bit when I say that I almost never hear a nasty comment, lie, or name applied to me that I haven't already heard countless times before.
I want to open the door on this reality for other Christians just a bit because I think it's important for them to learn about it and understand it.  We are in danger of losing our freedoms and being pushed into a Christian ghetto where our thoughts, ideas and values are not allowed in open discussion. A big part of the reason why is that we are so passive about our faith.
That's what these attacks are about. They are designed to force people of faith into silence, and then to push us all into the corners of life. Jesus specifically told us to refuse to allow that:
"Go and make disciples of all nations, baptizing them in the name of the father, the son and the holy spirit," He told the Apostles and through them, all of us.

"He who denies me before men, I will deny before the holy angels."

"If anyone is ashamed of me and my message, I will be ashamed of them when I come in the glory of the Father and the holy angels."
Christians do not have the luxury of going along to get along. We must, on peril of our souls, stand for Christ. Hiding in our safe little bubbles of faith-filled people only encourages and strengthens those who attack our Lord. One thing I hope these comments show you when you read them is the sad lostness of these angry people and the totally unoriginal quality of their thinking. There is nothing to fear from their thinking, which is probably why they work so hard to overawe us with their nastiness.
I allow a good bit of the repetitive nonsense Christians bashers say onto this blog. I do it for teaching purposes, in the hope that being exposed to it here will both motivate and educate my Christian readers.
We need to know what these lost people are saying. We need to understand how their thinking works. We also need to pray for them, for they are truly and terribly lost. That perhaps is the worst of reading these comments for me. It is reading the comments of lost souls; like witnessing a terrible car wreck and seeing people trapped inside who will not let you help them get out.
Here is Frank Weathers' take on the media bias concerning gay marriage. As usual, he says it all with wit and charm.
The Miraculous Incident of Balanced Media Coverage On Same-Sex Marriage…
This is the week when the Supreme Court will spill the beans on what will become of same-sex marriage in California, and perhaps in the entire country. Lots of folks are on pins and needles waiting for the decision that will be handed down.

Over at Get Religion, Terry Mattingly notes the stunning fact that at least one mainstream media outlet stood up recently to give voice to gay folks who are not in the camp as being for same-sex marriage.

And you thought unicorns were rare!

Would it shock you that this particular news outlet isn't based stateside? I'll let Terry explain, (Read the rest here.)
In honor of the Fortnight for Freedom, I am going to limit today's quick picks on Christian persecution to the United States.
The list below comes from the website of the United States Conference of Catholic Bishops. None of these examples involves burning down churches or mass murders of Christians. They do, however, show a huge change in the way that religious liberty is viewed by the government from just a few years ago.
I believe that this change has come about primarily through the almost non-stop Christian bashing that takes place in our media, academia and on websites. Christian bashing has become so popular that those who practice it as a profession, such as certain authors, speakers and bloggers, are not only able to continue their practice of Christian bashing without facing objections, they make an excellent living at it.
The rise of professional Christian bashers and the aggressive way that they ply their trade has certainly contributed to a cultural situation in which Christians must constantly be on the defensive. I think it has also fueled the attitudes which have led to the discriminatory practices listed below.
I've said a number of times that discrimination is a continuum. People do not move to violent persecution in one step. They work themselves into it by moving along a progression of prejudice and hatred. I believe that America is, as a nation, moving rather rapidly along that progression where Christians are concerned.
From the USCCB:
Current Threats To Religious Liberty
An Overview of Specific Examples

Pope Benedict XVI spoke last year about his worry that religious liberty in the United States is being weakened.  He called religious liberty the "most cherished of American freedoms."  However, unfortunately, our most cherished freedom is under threat.  Consider the following:

HHS mandate for contraception, sterilization, and abortion-inducing drugs.

  

The mandate of the Department of Health and Human Services forces religious institutions to facilitate and fund a product contrary to their own moral teaching.

  

Further, the federal government tries to define which religious institutions are "religious enough" to merit protection of their religious liberty. 


Catholic foster care and adoption services. 

 

Boston, San Francisco, the District of Columbia, and the State of Illinois have driven local Catholic Charities out of the business of providing adoption or foster care services—by revoking their licenses, by ending their government contracts, or both—because those Charities refused to place children with same-sex couples or unmarried opposite-sex couples who cohabit. 


State immigration laws.

  

Several states have recently passed laws that forbid what they deem as "harboring" of undocumented immigrants—and what the Church deems Christian charity and pastoral care to these immigrants.


Discrimination against small church congregations.  New York City adopted a policy that barred the Bronx Household of Faith and other churches from renting public schools on weekends for worship services, even though non-religious groups could rent the same schools for many other uses.

  

Litigation in this case continues. 


Discrimination against Catholic humanitarian services.  After years of excellent performance by the U.S. Conference of Catholic Bishops' Migration and Refugee Services (MRS) in administering contract services for victims of human trafficking, the federal government changed its contract specifications to require MRS to provide or refer for contraceptive and abortion services in violation of Catholic teaching. 


Christian students on campus.  In its over-100-year history, the University of California Hastings College of Law has denied student organization status to only one group, the Christian Legal Society, because it required its leaders to be Christian and to abstain from sexual activity outside of marriage.


Forcing religious groups to host same-sex "marriage" or civil union ceremonies.

  

A New Jersey judge recently found that a Methodist ministry violated state law when the ministry declined to allow two women to hold a "civil union" ceremony on its private property.

  

Further, a civil rights complaint has been filed against the Catholic Church in Hawaii by a person requesting to use a chapel to hold a same-sex "marriage" ceremony.

Is our most cherished freedom truly under threat?  Yes, Pope Benedict XVI recognized just last year that various attempts to limit the freedom of religion in the U.S. are particularly concerning.  The threat to religious freedom is larger than any single case or issue and has its roots in secularism in our culture.  The Holy Father has asked for the laity to have courage to counter secularism that would "delegitimize the Church's participation in public debate about the issues which are determining the future of American society."
Today is the first day of Fortnight for Freedom 2013.
The American bishops have asked Catholics to refrain from eating meat on Fridays during the fortnight as a fast for religious freedom.
I would suggest that we also pray the Rosary for the intention of religious freedom on Fridays during the fortnight.
You can sign up for text alerts on religious freedom from the USCCB here.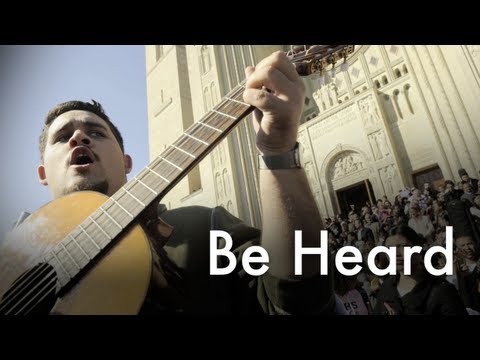 It's official. A new Pew Research study indicates that media coverage of the gay marriage debate is strongly biased in favor of gay marriage.
That's in case you were wondering.
Was anybody wondering?
Personally, I think this falls into the "new study indicates that nuts roll downhill" kind of news. The study is based on coverage of the period a few weeks ago when the Supreme Court was hearing arguments on the issue of gay marriage. It turns out that news coverage, including that from Fox News, was 5 to 1 in favor of gay marriage.
Of course, the study is somewhat misrepresentative of the actual media bias in favor of gay marriage, since the media typically tries to paint a gloss of balance on their social-issue propaganda when they're reporting big stories like Supreme Court hearings. I think day to day reporting is probably much worse.
Also, when you consider the total sell job that we get from outlets such as HBO — which also hard-sells euthanasia, abortion and polygamy, among other other things — it begins to look like 5 to 1 is actually a low number.
The people of this country, indeed, the people of the world, are being pushed, propagandized and often bullied into accepting destructive social changes. Gay marriage is one of those changes. At the same time, there is an almost equal attack on faith, particularly Christian faith.
From the National Catholic Register:
Daily News

Pew Reports Media Bias on Marriage Debate 

(1913)

As the U.S. Supreme Court weighed DOMA and Proposition 8, news stories favored same-sex 'marriage' 5-1.

BY JOAN FRAWLEY DESMOND 

06/17/2013 Comment

WASHINGTON — The Pew Research Center released a report on June 17 that confirmed overwhelming media bias in favor of same-sex "marriage."

Researchers evaluated news and opinion coverage of oral arguments before the U.S. Supreme Court and related stories dealing with two landmark marriage cases and found that all mainstream media outlets favored "marriage equality," including Fox News.

Pew reported that stories "with more statements supporting same-sex marriage outweighed those with more statements opposing it by a margin of roughly 5-to-1."

This skewed treatment, researchers concluded, conveyed "a strong sense of momentum towards legalizing same-sex 'marriage.'"

Now, as the nation awaits the high court's rulings on the constitutionality of the Defense of Marriage Act (DOMA) and Proposition 8, which are expected by the end of June, the unbalanced news coverage will likely prompt intense scrutiny and debate on the media's role in affecting the outcome of those cases.

Some constitutional scholars have predicted that the justices, mindful of the ongoing debate over Roe v. Wade, would be cautious about legalizing a social practice that lacked broad public support.

But if news stories indeed conveyed a sense of "momentum," the high court's deliberations might accommodate that shift.

"I have to think the justices — and especially the chief — are very cognizant of the shifting public opinion," Carl Tobias, a law professor at the University of Richmond, told The Hill in mid-May, during the period that Pew researchers charted the flow of coverage favoring one side of the issue.

Read more: http://www.ncregister.com/daily-news/pew-reports-media-bias-on-marriage-debate?utm_source=feedburner&utm_medium=feed&utm_campaign=Feed%3A+NCRegisterDailyBlog+National+Catholic+Register#When:2013-06-18%2002:11:01#ixzz2Was206vD
Arlene's Flower and Gifts.  Is it the only place to buy flower in Washington? 
Bob Ferguson, Washington state's attorney general, probably thought he was picking an easy fight when he took on 68 year old Barronelle Stutzman. After all, she not only had gray hair, she was a small business owner with very few resources to defend herself against the government. 
It probably looked like an easy way to earn kudos from the my-way-or-the-highway crowd that seems to be running parts of our government these days. Ms Stutzman, who has a history of employing self-identified homosexuals, as well as serving them, evidently draws the line when it comes to providing flowers for gay weddings.
I think I see where she's coming from. Selling flowers to gay customers or employing gay people are both well within Christian behavior. In fact, treating gay people like people is pretty much a requirement of following Jesus. Providing flowers for a gay wedding, on the other hand, would have put Ms Stutzman in the position of actively participating in something that just about all traditional Christians regard as sinful. It is a violation of what Jesus intended for marriage to be, and, many people believe, will do great harm to the already damaged institution of marriage. 
To use an analogy, if someone who was getting ready to rob bank came into your store and wanted to buy a carton of milk for their lunch, selling them the milk would not make you part of their bank robbing. However, if they asked you to sell them a bag for the money, and they told you it would be used in a bank robbery, you would be part of the crime. 
I am not equating bank robbery with gay marriage. They are entirely different. I just used that as an illustration. 
The point here is that to compel someone to participate in an action that they regard as sinful is a violation of their human dignity and their right as human beings and American citizens to decide these things for themselves. Even if bank robbery was legal, if a store owner still believes that theft is a sin, they should have the right to refuse to sell the erstwhile robber the bag for the loot.
Ms Stutzman's problems began on March 1, when Robert Ingersoll, who had known Ms Stutzman for 10 years, asked her to sell him flowers for his "wedding" to Curt Freed. Here's Ms Stutzman's description of what happened:
"He said he decided to get married, and before he got through I grabbed his hand and said, 'I am sorry. I can't do your wedding because of my relationship with Jesus Christ,'" Stutzman said. "He thanked me and said he respected my opinion. We talked and gave each other a hug and he left." She said it was the only wedding she had declined in 37 years.
Washington Attorney General Bob Ferguson
Attorney General Ferguson must not have too many serious crimes to deal with up there in Washington State because he immediately saddled up his white horse and rode out to hammer down on Ms Stutzman. He is using a consumer protection act to seek a $2,000 fine against Ms Stutzman, along with a permanent injunction which would force her to either sell flowers for gay weddings or to stop selling flowers for wedding ceremonies altogether. I do not know what jurisdiction passed the act the AG is using. 
Barronelle Stutzman
The only legitimate reason I can see for the chief law enforcement officer in Washington state to take such an extreme interest in this incident is that Ms Stutzman's shop, Arlene's Flower and Gifts, must be the only place in Washington state where those poor people who live there can buy flowers. That's kind of sad, when you think about it.
However, Ms Stutzman hasn't rolled over. She has filed a countersuit through the Alliance Defending Freedom. Her lawsuit is based on federal constitutional protections of religious freedom and protections in the Washington State Constitution.  
According to American's Defending Freedom:
ADF explains that the state's lawsuit "is attempting to force Stutzman to act contrary to her religious convictions in violation of her constitutional freedoms."

"In America, the government is supposed to protect freedom, not use its intolerance for certain viewpoints to intimidate citizens into acting contrary to their faith convictions," said ADF senior legal counsel Dale Schowengerdt. "Family business owners are constitutionally guaranteed the freedom to live and work according to their beliefs."

He added, "It is this very freedom that gives America its cherished diversity and protects citizens from state-mandated conformity."

In additional to federal constitutional protections, the Washington State Constitution also protects "freedom of conscience in all matters of religious sentiment, belief, and worship," as stated in Article 1, Section 11.

Stutzman has set up a fund for her defense. Donations can be sent to:

Key Bank
1275 Lee Blvd
Richland, WA 99352
509-392-4638
Attn: Lindsey