I've been looking at videos of Brian Williams. The thing that jumps out at me is that he has been more of a personality than a journalist for quite a while.
There's something vaguely trashy about the anchor of a network news show performing as he does in these videos. However, it goes a long way toward explaining his I Caught a Fish THAT BIG story about coming under fire in Iraq. That story was part of the Brian Williams act, the Brian Williams persona.
All this is in keeping with the way "news" has been trending for a long time. On cable news channels, they don't so much report the news as they talk about it.
Each of the cable channels brings in "experts" of one sort or the other to dice up some itty bitty story or an itty bitty aspect of a large story that they've decided to focus on. Invariably, this chosen aspect they are going to dissect with talk, talk, talk is something that they can massage to put forth the slant, the bias, of that particular network. The "experts" viewpoints reflect the cable "news" channel's bias, as well.
On network news, there's a bit more reporting, but they have been overtaken by the star power of their anchors. The whole idea of a journalist being a "star" is antithetical to journalism. When the guy reading the news becomes bigger than the news he's reading, we get a messy, viewpoint-driven version of events that veers haplessly toward propaganda and flat-out lying.
What I'm saying is that "news" as it's being served up to the American people on television is one part trashy entertainment, complete with verbal pushing and shoving, one part star bias, one part network bias and a smidge of actual reporting.
That's why news channels report, report, report non-news about one story: It's cheaper to produce and easier to do than actual journalism.
The problem we are experiencing with our free press, at least on television, is that it's not a free press. In fact, it's not a press at all. It's a corporate-owned propaganda machine that is being used to drive public opinion in order to control rather than inform the populace.
Brian Williams, star anchor and teller of tall tales, is just a symptom of the overall lack of credibility and journalistic chops in our money-driven television news empires. He's just a good looking guy who reads the news.
I'd rather have homely folks who report the news without becoming the news themselves.
Brian Williams' apology.
Brian Williams, describing the helicopter story in 2003, before it became the I Caught a Fish THIS BIG story.
Brian Willaims, telling the full I Caught a Fish THIS BIG story on Letterman.
Brian Williams' newscast in which tells his I Caught a Fish THIS BIG on NBC news. The self-promotion in this is shameless.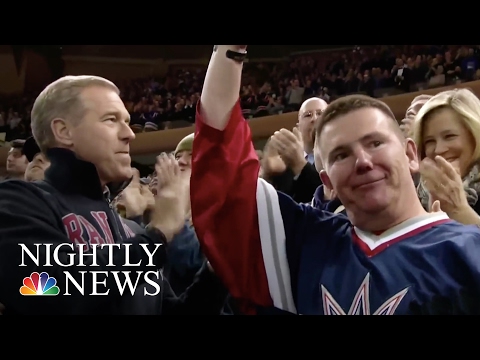 Brian Williams, talking about the importance of the news.
Stars and Stripes debunked the I Caught a Fish THIS BIG story. There is a video with the reporter who debunked the story here.
From Stars and Stripes:
Williams and his camera crew were actually aboard a Chinook in a formation that was about an hour behind the three helicopters that came under fire, according to crew member interviews.

That Chinook took no fire and landed later beside the damaged helicopter due to an impending sandstorm from the Iraqi desert, according to Sgt. 1st Class Joseph Miller, who was the flight engineer on the aircraft that carried the journalists.

"No, we never came under direct enemy fire to the aircraft," he said Wednesday.

The helicopters, along with the NBC crew, remained on the ground at a forward operating base west of Baghdad for two or three days, where they were surrounded by an Army unit with Bradley fighting vehicles and Abrams M-1 tanks.

Miller said he never saw any direct fire on the position from Iraqi forces.

The claim rankled Miller as well as soldiers aboard the formation of 159th Aviation Regiment Chinooks that were flying far ahead and did come under attack during the March 24, 2003, mission.

One of the helicopters was hit by two rocket-propelled grenades — one did not detonate but passed through the airframe and rotor blades — as well as small arms fire.