"The priesthood is too serious a call, not to have guys who are 100% committed to what they are doing."
Amen.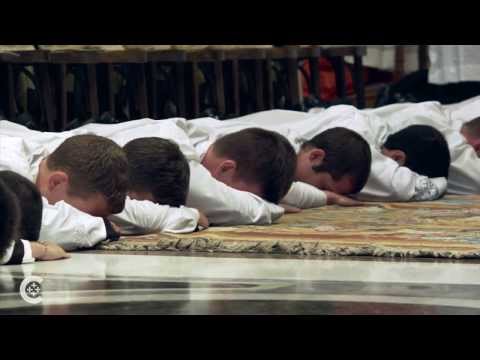 Like Patheos Catholic on Facebook!
The press has jumped all over another errant remark from the Vatican, this time about married priests.
I'm not going to hold my breath until the Vatican decides to do away with the celibate priesthood. The reason is that I like breathing. However, I am game to, just for fun, look at as a proposition. Let's consider for a moment how doing away with the requirement for celibacy for our priests would affect our Church.
So far as I know, not even the perpetually-hyping press has gone so far as to suggest that the pope is considering doing away with chastity for priests. Chastity means, in its most base interpretation, no sex outside of marriage. I am giving you the bottom drawer meaning of this word for the purposes of this discussion, but it has many layers beyond that.
Just for now, we will limit the concerns about chastity to the no-sex-outside-marriage consideration. Since no one wants priests who are not chaste, we have to assume that even if the Church decided to waive the requirement for singlehood for its priests, it would still hold that they must either be celibate or married.
If the Church suddenly started admitting married men to the seminaries in large numbers, the face of the priesthood would change along with them. Changes in the institutional Church and the way it does business would have to follow.
First, allowing married men would almost certainly increase the overall percentage of heterosexual men in the priesthood. It would do this for two reasons. One: I doubt that the priesthood would remain as attractive to homosexual men under these circumstances, for lots of reasons. Two: The priesthood would attract a number of heterosexual men who had previously given it a pass because they felt called to marriage.
Second, allowing married priests would mean that our priests would have wives and families, with all the concerns that go with them. I've heard talk about the finances involved in providing priests an income that would allow them to support their families. That is certainly one change that would have to happen. The Church would also have to address the lifetime sinecure of health insurance, retirement lodging and other things it provides for priests now.
Priests today sign their lives over to the Church. They even make their bishop the next of kin on their living wills. They go where they are sent and do what they are told. In exchange for this, they never have to worry about a roof over their heads, medical care, retirement or any of the other things that bother the rest of us.
They are "sons of the Church" in a literal, almost childlike, way.
But if these "sons of the Church" were married men with other people they were responsible for, the dynamic of all this would change drastically. Not only would decisions have to be made about how the Church would go about providing for their families, which if the priests followed Church teachings, would be large, but it would have to consider these families when making assignments to the priests.
It's one thing to transfer a single man from hither to yon at a moment's notice. It's quite another to ask a wife to quit her job and the kids to leave their schools and move around like a flock of hummingbirds.
Another consideration is the resentment and anger of the families of these men. I've heard deacon's wives complain about the fact that the Church does not recognize their existence. If the deacon was a priest, and the priest had a wife and seven kids with one on the way, how would the Church deal with the multiple angers and resentments of family members who felt that their existence was being denied?
Wives can be reasoned with (sometimes) but children are another matter. With kids, it's ignore now and visit them in the drug rehab later.
Third, would be the major change in how Catholics themselves view their priests. Catholics dote on their priests. They shower them with gifts, respect, trust and compliments. In exchange, they expect to be catered to and coddled by their pastors in a way that no Protestant could even conceive of.
I know. I was a Protestant for a long time, and I can tell you no one expected the kind of one-to-one, personal attention that Catholics expect and receive from their priests. Catholics go running to their priests with their problems, expecting (and receiving) filial attention and comfort.
It's an incredible relationship, and most of it is based on the simple fact that the priests are all-in for their ministry in a way that no married man could ever be. Catholics dote on their priests, and their priests dote back. All this mutual doting forms a kind of glue that holds this disparate Church together as an incredibly well-functioning social unit. We, all of us, priest and laity alike, stand before the Eucharist — which in a real way is the Church — in a relationship based on the fact that the priests have made the priesthood their life's commitment.
All of this — all of it — would change if the Church moved away from the celibate priesthood.
I'm just touching on three areas I can see that would have to change if the Church waived the requirement for non-married celibacy for priests. In truth, the entire dynamic of the priesthood as it's been practiced for a thousand years would change. This would require painful adjustments for the Church, the men who are priests now, for the families of future priests and for the parishioners.
Do we want to do it?
I don't know.
It's not my call.
But I'm not holding my breath.
Like Patheos Catholic on Facebook!
Two students at George Washington University have begun a campaign to use the university's regulations to silence a Roman Catholic priest.
Their reason? Because the priest follows Roman Catholic teaching.
According to one news story I read, the two seniors, Blake Bergen and Damian Legacy, "feel alienated because the chaplain at George Washington University's Newman Center rejects homosexuality, and they aren't going to take it anymore."
An article in the school's newspaper, the GW Hatchet, says that the two students "have launched a coordinated campaign to rid the campus of the priest." They claim that they have left the Newman Center because Fr Greg Shaffer's "strong anti-gay and anti-abortion views are too polarizing." Evidently, Fr Shaffer also committed the sin of using his freedom of speech to write a blog post in which he advises students with same-sex attractions to live celibate lives.
Bergan and Legacy wrote a piece for Huff Po with the totally disingenuous title, "The Fight for Love at George Washington University," in which they toss around words and phrases like  homophobic and "persecution of the LGBT community."
I've left this story alone, since Patheos' blogger Dawn Eden clearly had the inside track. When Deacon Greg Kandra came alongside her with additional coverage, I thought it was done and done.
I still don't believe I have a lot to add, but I do want to bring out a couple of points for Public Catholic readers.
First, the two men behind this attack on Fr Shaffer are not Roman Catholic. One of them was raised as a Jew and is now agnostic. The other wanted to become a Catholic priest and was turned down by Fr Shaffer because of his refusal to leave the gay lifestyle. He has since become a priest in something called the North American Catholic Church. I am not familiar with this denomination, but I'm sure it's not Roman Catholic.
I'm not sure why no one has asked if this whole campaign is just a matter of personal sour grapes and vengeance masquerading as concern for a "cause," but I think it is a legitimate question. I don't usually consider personal motives when I look at political actions. But this time, they seem fairly consequential.
According to the George Washington University Newman Center web site, 3,000 of the 10,000 students on this campus are Roman Catholic. Everything I read on their web site sounds like the Newman Center is there to minister to these students, although they do welcome people who are not Catholic to join in. Nothing I saw there makes me feel that the students are in any way required to participate in Newman Center activities.
Frankly, unless the university decides to play the fool and do what these men are demanding, this whole thing may turn out to be a teapot tempest. It sounds like a very nasty bit of vengeful character assassination aimed at a faithful priest who simply had the good sense to tell someone who was actively participating in the homosexual lifestyle that he was not good priest material.
Duh.
My comments on this are two-fold. First, this kind of wacko behavior could only occur in a social environment where people felt free to engage in Christian and Catholic bashing. These two young men probably wouldn't be any less vicious if they weren't feeling empowered by the endemic Catholic bashing on our campuses, but they most certainly would have taken another route for their personal vendetta.
Second, these priest bashers aren't having it all their own way. Students on the campus have opened a blog supporting Fr Shaffer.
It's about time.
Christians need to stop running away when someone attacks a fellow Christian and stand by them instead. This is the main point this post. We've gone on too long letting the bullies cull out one or the other Christian and attack them while the rest of us either run away or stand by and watch it happen. In truth, we are so glad that the object of the attack is them, and not us, that we keep quiet so that it won't become us.
There's a word for this. It's called cowardice.
I am writing this post to commend the Catholic students of George Washington University for standing by their pastor. I am also writing it to encourage you to do the same when you see other Christians being attacked for following Christ. 
Silence means assent. We've been silent in the face of Catholic and Christian bashing for far too long.
Like Patheos Catholic on Facebook!