Monday's episode ("Dungeons and Dragons") of Terminator: The Sarah Connor Chronicles explored further the comparison between child rearing and the perils of artificial intelligence. This may have been too subtle for some viewers to pick up on, though. Key lines in the episode include the following:
The reference to Skynet by its maker as having become frightened and insecure, to the extent that it couldn't be reassured.
The statement "Sometimes they go bad. No one knows why".
Both could easily be said of our children.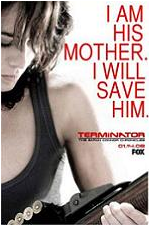 Here are other sites worth looking at about this episode:
IGN
IF Magazine
TV Squad
A.V. Club
IO9