And there's room for the forsaken if you're there on time …
"Back on Board," Aztec Camera
"Bullet Train," The Lost Dogs
"Down There by the Train," Tom Waits
"Downtown Train," Everything But the Girl
"Driver 8," R.E.M.
"The Engine Driver," The Decemberists

"Folsom Prison Blues," Johnny Cash
"Folsom Prison Blues," Keb Mo
"Freight Train to Nowhere," Mark Heard
"Ghost Train," Counting Crows
"Ghost Train," Elvis Costello
"High Speed Train," R.E.M.
"Hip Train," Vigilantes of Love
"It Takes a Lot to Laugh, It Takes a Train to Cry," Bob Dylan
"Land of Hope and Dreams," Bruce Springsteen
"Last Train to Clarksville," Cassandra Wilson
"Long Train Runnin'," The Doobie Brothers
"Midnight Train to Georgia," Gladys Knight and The Pips
"Mystery Train," Elvis Presley
"Night Train," The Kingsmen
"Nothing Like a Train," Vigilantes of Love
"On the Evening Train," Johnny Cash
"Peace Train," 10,000 Maniacs
"Peace Train," Cat Stevens
"People Get Ready," Curtis Mayfield
"People Get Ready," Rod Stewart & Jeff Beck
"Railroad Wings," Patty Griffin
"Red Rail 9," Twitchen Vibes
"Saint Agnes and the Burning Train," Sting
"Sounded Like a Train, Wasn't a Train," Castanets
"Stop This Train," John Mayer
"Stranded at the Station," Mark Heard
"This Train," Janis Ian
"This Train Don't Stop There Anymore," Elton John
"The Train," Lone Justice
"Train in Vain," Annie Lennox
"Train in Vain," The Clash
"Train of Love," Johnny Cash
"Trains and Boats and Planes," Dwight Yoakam
"Zoo Station," U2
It seems like for every song I have in which a car means sex, I have another song in which a train means death.
Trains seem eschatological in American music — death, but also redemption and an inexorable trajectory towards somewhere and something new.
That Janis Ian track is from a Sister Rosetta Tharpe tribute album, but since I couldn't find a link for the cover version, here's Sister Rosetta herself.
And here's a big old hootenanny of that song with Mumford Sharpe & The Magnetic Sons: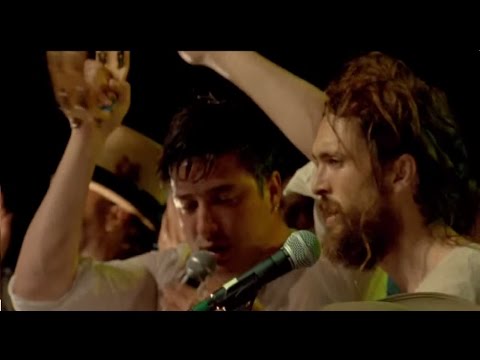 "This Train" was first recorded in 1925 (by Wood's Blind Jubilee Singers), but it was already an old song by then. It has influenced American music for more than a century, but something interesting has happened along the way. The original folk song is exclusive. "This train is a clean train," one that "Don't carry nothing but the righteous and the holy." It's verses offered a list of the various types of scoundrels and sinners who would not be permitted to ride.
But nearly every rendition of the song suggests otherwise — words of warning sung as words of invitation. And the hundreds of songs it influenced have busily worked to sneak all those excluded sinners  — the gamblers, liars, thieves and big-shot ramblers — back on the train. You don't need no ticket, you just get on board.
Interesting.
Why trains? I'm not sure, but it has to be trains. Take those songs above by Johnny Cash, Curtis Mayfield, Tom Waits, Gladys Knight or Cat Stevens and try to substitute a car, a bus or an airplane and they just wouldn't work. Has to be a train. (Or maybe a boat.)
Stay in touch with the Slacktivist on Facebook: