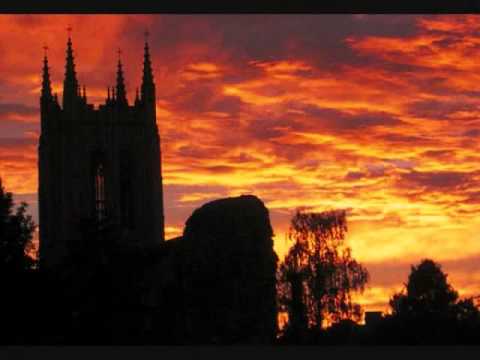 I was planning a humdinger of a post for All Saints Day today on the great hymn For All the Saints. Mgr. Pope beat me to it. Go here for a great write up.
I first came across this hymn when I became an Anglican while still a student at Bob Jones. I was so impressed with the Anglican hymns that I remember typing out the words on index cards and memorizing them as I drove back and forth to work that summer. Today at the school Mass while censing the altar I realized that I still knew the whole thing–all eight verses.
What I love about the hymn is its joyful recognition that the church is militant. We are an army on the move–not an army of vengeance and violence, but an army of love and reconciliation–fighting Satan and all his hosts. The final verse never fails to moisten my eyes. What a vision! Mgr. Pope agrees:
And the hymn takes one final look. We have come full circle from heaven to earth and back to heaven again. We have made our journey but now the hymn bids us to cast our glance outward and see the magnificent procession that continues for all who will come after us. Jesus had said, "And I when I be lifted from the earth with draw all men unto me." (Jn 12:32) So now look fellow Christian! Look outward from a heavenly perspective and see the harvest as Christ draws countless numbers to himself:

From earth's wide bounds, from ocean's farthest coast,
Through gates of pearl streams in the countless host,
And singing to Father, Son and Holy Ghost:
Alleluia!

Ah, what a hymn. What a sweeping vision and wondrous celebration of the Christian life. Though the battle be now engaged, victory is sure if we but stand firm and hold to God's unchanging hand.
Which brings me to a reflection on the dire state of hymn singing in the Catholic Church. Why oh why will Catholics not pick up a hymnal, and learn these splendid hymns and sing their guts out?
Am I allowed to miss the Anglican Church?