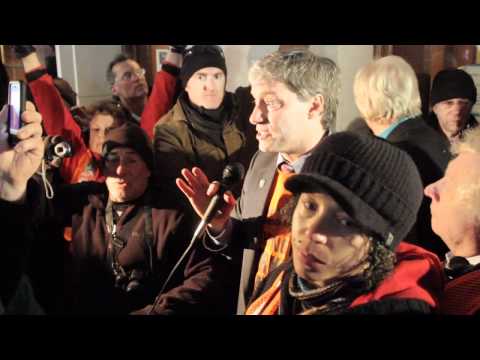 ________——-_______
It's a long video, but keep watching, and if you can't abide hearing the "F-word" then cover your ears toward the 2:40 mark, when these overgrown adolescents resort to their magic word of power — the word they spelled out en masse at Woodstock, because it was so cool, man, and such a daringly articulate denunciation of like…the establishment and the bourgeois, two-car, vacation-taking middle class, and like…hardhats and unions and stuff…man.
Watch the leftover hippies and their well-indoctrinated progeny as they surround, follow, bully and try to intimidate Wisconsin State Senator Glenn Grothman (that would be the small, grey-haired man, trying to make his way into the capital building). Seduced by their own mob-ism and the sympathetic responses from the president and the press, their brains benumbed by their numberless, mindless chants, this rabid pack surrounds the senator and eventually corners him. Were Grothman not finally rescued by Democrat representative Brett Hulsey — not a cop, mind you, not a security officer but an "acceptable" sort of politician — who knows what might have happened to this man?
And note, it is only when Rep. Hulsey appears that some of the agitators realize that wait – maybe we should put up our peace signs –time to shout "peace-ful! Peace-ful! Peace-ful!"
Because that's what we are, man, we're like…the peaceful people! We were just antagonized for a second there, and lost our heads, because of this poor-people-hating Republican who dared to think he could like, aggressively swagger through our territory and you know, be all in our faces and stuff. We're peaceful man! Peace! Peace and love!"
Grothman is a human being. The mob is utterly unable to see a man's humanity; they're too busy chanting and huffing; too enthralled by their own energy, their sense of purpose, to in love with the empowering thrust of their hate, which feels like love, perverted.
I can't help but think back to a Tea Party demonstration in Washington, wherein then-Speaker Nancy Pelosi, carrying her clown-gavel, Steny Hoyer, John Lewis, Jim Clyburn and a few other Congressmen inexplicably decided they would walk through the crowd. Her head defiantly thrown back in laughter, Pelosi seemed almost to be daring the crowd to lose its self-restraint. The Congressmen carried video-cameras, hoping apparently, to get on tape, something shameful from the crowd. When they didn't get it, they said they did, anyway. One congressman accused someone in the crowd of spitting on him, and another said, "I heard the N-word! I heard it!"
And the press dutifully ran with those stories: those racist, violent Tea Partiers – they spat on a congressman; they used the 'n-word!' No, we don't have any tape on it; we don't have any proof, but they did it! Because they're violent racists, all of 'em! Oh, and the congressman says that maybe the guy was just yelling at him and it might have been an unintentional expectoration, but it doesn't matter! Spitting and N-words, that's the story and we're sticking to it!

I wonder how many in the unintentionally expectorating mainstream media (I'm looking at you, Mr. Matthews) are going to air this tape on their programs and talk about the malevolent violence of this aggressive mob? I wonder if they will excuse their gang-menacing of a single, unprotected grey-haired man as an regrettable, but understandable moment of "passion."
"Shame!" cries the crowd, who are (for the most part) doing all of this in order to hold on to collective bargaining for the perkiest parts of their pensions. "Shame! Shame! Shame!"
I cry "Shame" at the at the plausible-deniability-loving press, who somehow never saw 8 years of "Kill-Chimpy-Bush-is-Hitler" signage but were (appropriately) appalled when stupid people put mustaches on images of President Obama. Now, they apparently cannot see a mob-mentality devolving into something genuinely aggressive, genuinely full-of-hate.
The press cried their big crocodile tears when Tim Russert died, and wailed about the fate of journalism without his presence. You'd think one of them — just one of the Andrea Mitchells or Diane Sawyers or Terry Morans — would look into the camera and say, "wait; this is a story; this gets covered. This is everything we ever declared the Tea Party to be!"
But that would take some self-awareness, I guess, and some genuine leadership, and fealty to a fact-gathering ideal that has long-since fled their coop.
Shame on the president, too, for throwing his weight behind these folks, with nary a word in support of the taxpayers who fund all of his lofty endeavors; I wonder how long it will take him or his mouthpiece to utter a weak "everyone needs to calm down, even though these Republicans are behaving stupidly and trying to destroy America"
When the mob in Wisconsin loses its collective head, and someone gets hurt, I wonder how the press manage to blame Republicans for it? Because clearly, it will be the fault of Scott Walker or Chris Christie. Or Sarah Palin.
Little Miss Attila: has a roundup!
Ann Althouse: worries about the effects of sleep-deprivation and her husband is in the thick of it
Instapundit has more here and here
Allahpundit: "try to imagine what might have happened had Hulsey not been there."
Grothman: has more class than his intimidators
Joe Carter: Poverty and Impoverished Spirits
DaTechGuy: Seeing no press coverage. But of course.
Brutally Honest: The Advent of Mob Rule
Also:
As long as they get theirs, baby
The Politics of Expediency
Why Should a Party Be Funded by Taxpayers?
The New Editor
Radio Patriot