We've been fans of Jennifer Lawrence in this house since Winter's Bone, in which she was just a revelation, but far more important than her prodigious gifts, Lawrence appears to be a really well-grounded young woman, whose head is on straight. Here she is daring to suggest that women like Joan Rivers should grow up:
"Shows like the Fashion Police and things like that are just showing these generations of young people to judge people based on things [that don't matter]. They put values in all the things that are wrong and [show] that it's okay to just point at people and call them ugly and call them fat and they call it fun," said the Oscar-winning actress.

An audience member asked the star what she thinks when people judge others based on looks, and she boldly replied, "Screw those people. You look how you look. What are you going to do, be hungry every single day to make other people happy? That's just dumb."
Even while traipsing red carpets in Dior, or while winning awards, or just explaining that her hair was annoying her, so she cut it off (we've all been there!) she comes off as completely natural, big-hearted, sane and unaffected.
And here she is being all of those things as she leaves the carpet to spend some quality time with a little kid in a wheelchair:
With fans screaming and music thumping at Leicester Square, Lawrence spotted a girl in a wheelchair on the other side of a security barrier. The 23-year-old Oscar winner got the barrier moved aside so she could visit with the girl, who appeared to be crying.

Lawrence knelt in front of the girl and signed an autograph and posed for a photograph. She exchanged a few words with the young fan and then hugged her and kissed her on the cheek.

The fitting part was the music that could be heard playing in the background. It was the song "Laura Palmer" by British band Bastille. And some of the lyrics match up perfectly with Lawrence's gesture: "This is your heart, can you feel it? Can you feel it?"
There's a video with the story.
Or, watch this video. This is pretty much how I'd love my daughter to be, if I'd had one. Smart enough not to take it all too seriously.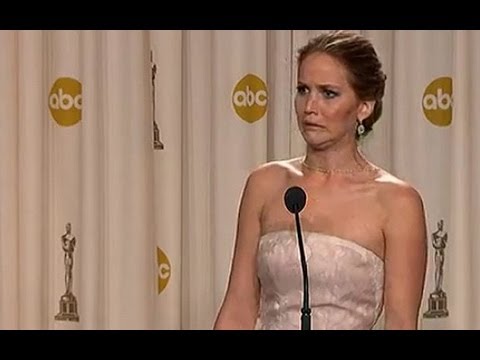 Back in the day, Vulgar Auntie Lillie would have hailed Lawrence as "a fine, great broad", and meant it as high praise.