Adam Lee of Daylight Atheism recently reran an essay he wrote in response to Peter Hitchens ("Atheists Don't Just Want Sex and Drugs").  Specifically, he was taking issue with Peter Hitchens's claim that a moral system that lacked God must lack authority.  Hitchens wrote:
For a moral code to be effective, it must be attributed to, and vested in, a nonhuman source. It must be beyond the power of humanity to change it to suit itself.
I've gone back and forth on whether I believe that first sentence (it depends a lot what the meaning of 'nonhuman source' is), but I'm pretty much in agreement with the second claim.  And this causes a lot of confusion in my atheist worldview (which I've mostly dealt with by taking a neo-platonic line on the whole question), so I was really curious to see how Adam dealt with the question.  He wrote:
As much as religion's defenders would like us to believe otherwise, there is no non-human moral authority. Every religious text in the world was written, edited, translated, and printed by humans. All edicts, interpretations, decrees, proclamations and fatwas issued by churches are human opinions. If a huge, glowing set of tablets with commandments engraved on them descended from the sky accompanied by angels blowing trumpets, we'd be having a very different debate, but there is no such thing. All moral opinions come to us from human beings. The only question is whose opinions we should accept as normative, and why.
I don't like the way Adam is drawing the distinction between human-dependent and independent moral system.  It sounds like, by writing and thinking about morality, humans are tainting the whole system with our subjectivism, and a truly independent morality would be like the sky-commandments — untouched by human hands or thoughts.  If we shift these criteria to another branch of philosophy, I think we can see them as flawed. (By now you can guess the next paragraph is going to be about math, right?)
All mathematical truth comes to us through human writings and human teachers, but it doesn't seem unreasonable to say that the truth or falsity of the Riemann Hypothesis is human-independent.  Heck, all of our experience of the reality of the physical world is human-mediated, but the fact that we experience the world subjectively wouldn't lead us to discount it as 'real' or 'objective.'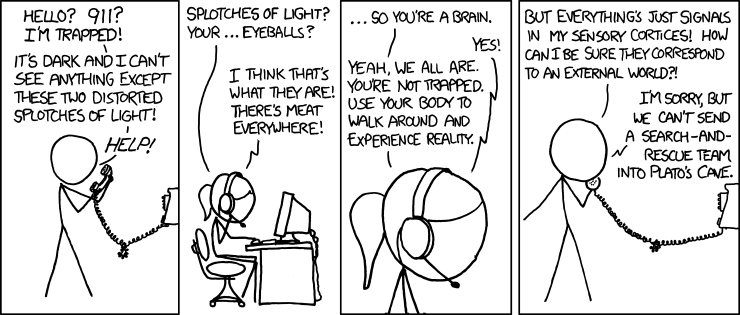 The fact that we are our own instrument to study the world doesn't negate our observations anymore than using microscope invalidates the images you see because you see them indirectly.  (Though in both cases we should study our instrument and get acquainted with its blind spots so we can revise and/or compensate).
I asked Adam in the comment thread whether he thought morality differed in some fundamental way from mathematics or the physical reality of the world.  Is it only in the case of the moral law that studying it through a human lens means the phenomenon itself must be human-dependent?  Or would he apply this rule to my other two examples as well?
Adam posted a reply, and I'll respond later today or tomorrow.  For now, I'd be interested in your rules on what qualifies as human-independent (give examples!) and your thoughts on when we should care whether a truth-claim is human independent in the first place.