A couple weeks ago Brad and I were browsing one of our favorite local game stores when I noticed this Discover India Board Game
The back of the box didn't tell me as much as I wanted to know! So I've been doing some research on it.
I love the idea of collecting tiles to build into a kolam pattern.
I am not too sure about the theme of being tourists in India, though. I'm worried that it sounds too much like seeing an alien culture as exotic and Indian culture feels anything but mysterious or "other" to me!
Luckily, I was able to find a video review of the game so I can see what it's really like!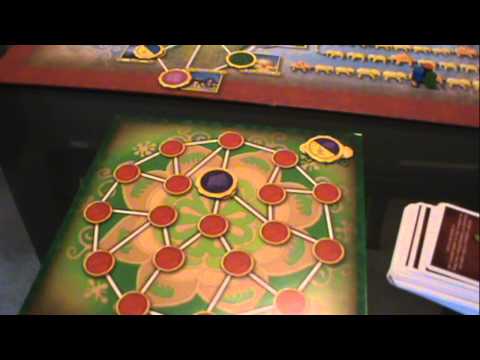 From that review it sounds like this game is maybe better for people who are less familiar with India and its history and lore than I am. Maybe it's for people who are interested in learning about a culture that is not that familiar to them.
The reviewer likes the game a lot, though it doesn't quite seem like my kind of game. He mentions that, apparently, some of the proceeds from the sales goes towards charity for children education in India. I found a little more info on that here, though the page had to be Google translated out of German so I'm not sure I got all the details.
(btw, did you know that Parcheesi and Shoots & Ladders are both games from India?)