Steven here…
The other day I put out the call for donations to help a fellow atheist who had lost his only means of livelihood. You came through. Above and beyond the call in fact. Between WWJTD readers and the rest of the secular community over $1,300 was raised in under 24 hours. Instead of repairing the old camera he was able to get a new and improved one. And an upgraded Flickr account. This community was able to turn a crisis into a boon. For that let me say thank you. Not only for helping a friend, but for demonstrating what this community is capable of. You fucking rock.
The Omaha Atheists surprised Josiah with the results on Tuesday. Here is Sarah Morehead's update:
For everyone following the saga of Josiah and his broken camera, here is an update, Josiah's reaction in his status below, and of course with pictures to follow! We had to have broken a record at how fast people from all over the country recognized how much he has done to put a face on atheist America, and jumped at the chance to throw in everything from $10 to $100[Top donation was $150 -Steven] towards fixing it. You are all such amazing, truly wonderful people, it was incredible.

We have an expert in our community who works at a locally owned camera shop and offered his help with either repair or replacement, and his professional opinion was the broken camera cost more to repair than it was worth in the long run. Thanks to the tremendous generosity of LITERALLY the entire Secular movement, we raised $1300 in under 24 hours and we were able to get him a refurbished upgraded camera as well as $100 cash to upgrade his online album storage etc. He was speechless when Beverly Carlson presented him with it, and lots of people were in tears.

Josiah is a close and personal friend of our family whom we adore, and it is a privilege to share this planet with him. To know that you all love him like we do is just one more reminder that humanity truly begins at the crossroads of compassion and generosity. Thank you for helping make this a happy holiday session for him and everyone who benefits from his phenomenal work. Happy Thanksgiving!
And Mark Graeve was there to get pictures.

And Josiah posted his reaction to his Facebook page:
There is this sexy vivid beast sitting on the table next to me, in all of its vaulted brilliance, this thing, this camera… And I can't believe that it's a real thing. Like, I can touch it.

I've had so much stuff, thoughts, worries, emotions, and things indefinable, washing through my head the last few days. But nothing that could compare to the cacophony that has been the inside of my skull for the last 18 hours or so. I don't know what to do with it.

I'm working on trying to put my appreciation into words, to craft words that somehow accurately reflect what's going on inside my head, but I can't. It's still too much of a torrent of disparate and jumbled emotions, and I need a little more time to process… or something like process. Whatever. Words suck.

But I can breathe again. I've felt like I couldn't breathe the last few days; I would see things, and I couldn't frame them; see people, and I couldn't frame them.

So thank you. Because I can breathe again. I love.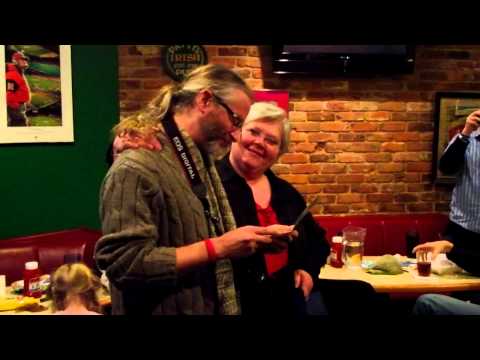 On this Thanksgiving, I am grateful to be part of such an amazing group of humans, who would go out of their way to help a stranger in need. We talk a lot about being good without God, but you folks demonstrated it. Thank you and have a good Thanksgiving.

I write a lot of jokes. Some of them are in this book.
I also host the podcast of the Skepchick events team, Some Assembly Required, and cohost the WWJTD Podcast.
You can also follow me on Facebook or that bird thing.