Frank and I have so much fun with this regular feature we might have to make it a daily affair. Well, maybe not. We've had chants, polyphony, Christian rockers, and just plain rockers in recent weeks. It's time to get twangy with some of America's top country and bluegrass ladies, each of whom has something to say to the spirit. Last week, I did a post on Mary Gauthier's lovely tune "Mercy Now," recorded at the Grand Old Opry. Here's a quartet of tunes that make good company for that one and may just rain a little more mercy down on us all.

Gillian Welch, "Orphan Girl"
You'd never guess she's a native New Yorker, playing here with her longtime musical partner David Rawlings. By the way, the G in Gillian is hard, as in "Gilligan's Island"—
I am an orphan on God's highway
But I'll share my troubles if you go my way
I have no mother no father
No sister no brother
I am an orphan girl
I have had friendships pure and golden
But the ties of kinship I have not known them
I know no mother no father
No sister no brother
I am an orphan girl
But when He calls me I will be able
To meet my family at God's table
I'll meet my mother my father
My sister my brother
No more orphan girl
Blessed Savior make me willing
And walk beside me until I'm with them
Be my mother my father
My sister my brother
I am an orphan girl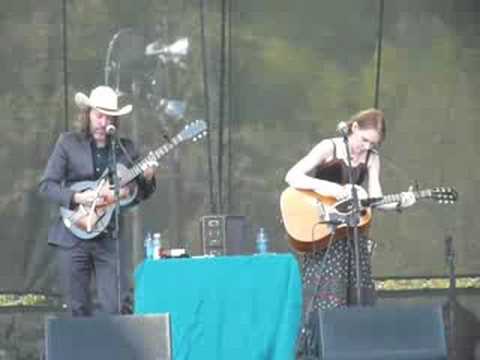 Nanci Griffith, "From a Distance"
Bette Midler went platinum with this tune by Julie Gold, but long before that, my little daughters and I used to sing along with Nanci Griffith on the tape player in the beloved old Blue Bomber, and at the top of our lungs—so that's the version you get here.
God is watching us, from a distance . . .
Alison Krauss and Union Station, "A Living Prayer"
Their version of "There is a Reason" is even better for my money, but You Tube won't let you embed it. So you'll have to click here for that one.
The Wailin' Jennys, "Glory Bound"
This Canadian trio—Ruth Moody, Nicky Mehta, and Heather Masse—is one of my favorite finds on Pandora Radio, and Lordy knows, they're headed in the right direction: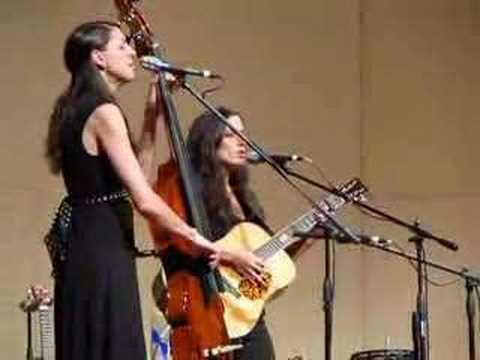 Allison Krauss and Gillian Welch, "I'll Fly Away"
And you thought they were already good on their own—they are even better together! The duo combined forces and was featured on the O Brother Where Art Thou movie soundtrack. Frank really likes it and snuck it in at the last second.