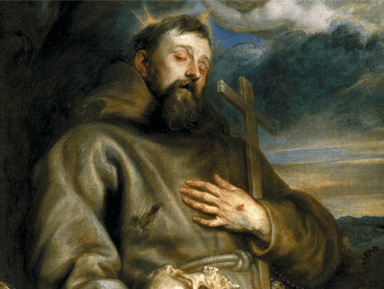 Faith:

Roman Catholic

Profession:

Friar, deacon, preacher

Lived:

1181 or 1182 - October 3, 1226

Nationality:

Remembered as "alter Christus"

Known for:

Italian

Fun Fact:

Would sometimes preach to animals, including birds and wolves
Saint Francis of Assisi (Italian: San Francesco d'Assisi), born Giovanni di Pietro di Bernardone, informally named as Francesco (1181/1182 - 3 October 1226), was an Italian Roman Catholic friar, deacon and preacher. He founded the men's Order of Friars Minor, the women's Order of Saint Clare, the Third Order of Saint Francis and the Custody of the Holy Land. Francis is one of the most venerated religious figures in history.

Pop Gregory IX canonized Francis on 16 July 1228. Along with Saint Catherine of Siena, he was designated Patron saint of Italy. He later became associated with patronage of animals and the natural environment, and it became customary for Catholic and Anglican churches to hold ceremonies blessing animals on his feast day of 4 October. He is often remembered as the patron saint of animals.

Back to Search Results