Magick is the art of changing consciousness in conformity with Will.
-          Dion Fortune
Welcome to the second unit in the Witch's Eight Paths of Power!  In Gerald Gardner's Book of Shadows, the second of the Eight Paths, which he called the Eightfold Way, was "Trance; Projection of the Astral."  Why don't we dive right in?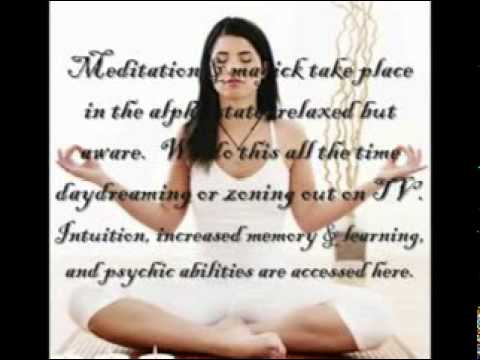 What, exactly, is a trance?
Technically, any state of consciousness; awake, asleep, comatose, hypnotized, and otherwise, is a "trance."  But when Witches refer to a trance, we are generally speaking of an "altered state of consciousness," or a state that differs from what we think of as "normal" waking consciousness.  Much of the training in magick and Wiccan mysticism involves altering your consciousness from one state to another.
In this unit, we will examine brain waves and how they denote different consciousness levels and what that means; discuss trance states and how they have been used historically and in modern times to achieve things that human beings generally cannot accomplish in the normal waking state; examine (and practice) different ways to induce a trance state; and learn how to access psychic and mystical abilities.

The rest of this content is available only to subscribers.  For more information about subscribing, click HERE.
If you are already a subscriber, click here to LOG IN.