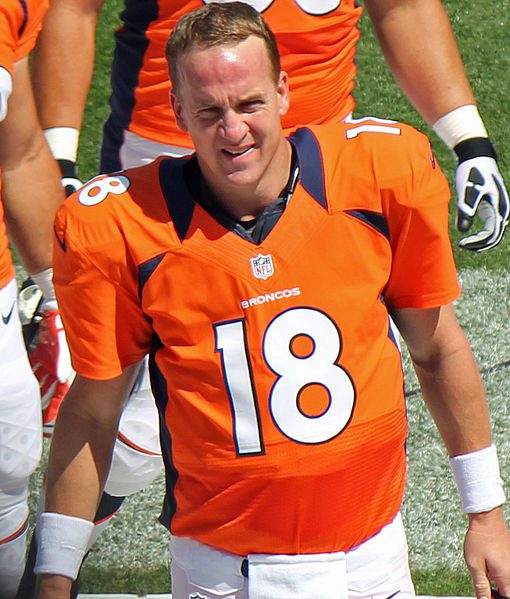 Peyton Manning
"You can easily judge the character of a man by how he treats those who can do nothing for him."

– Johann Wolfgang von Goethe (attrib.)
Two years ago, I found myself writing a piece about Peyton Manning…and my wife (Regarding My Wife & Peyton Manning). No, no. It wasn't some salacious scandal piece (perhaps to the chagrin of a frustrated Patriot fan), but rather a story of how I became a fan of the Denver Broncos quarterback Peyton Manning. Even more, it is a story about how right my wife was. Again. I hope you will take time to revisit the piece.
And now, two years have passed. Two years.
Now, my household – two young daughters, my wife and me – finds itself buzzing with enthusiasm. After all, Peyton Manning and his Broncos just beat Bill Belichick, Tom Brady and the fearsome New England Patriots in the AFC Championship. If you didn't watch it (then, simply SHAME on you), it came down to an attempted two point conversion by the Patriots in the final seconds to tie and go into overtime…and they missed it. Broncos win 20-18. Next stop, Super Bowl 50 against Cam Newton's formidable Carolina Panthers.
And, I presume, Peyton Manning's last game.
It is a perfect time to explain why Peyton Manning matters.
Let me start by saying, unsurprisingly, I hope that Peyton and the Broncos win the Super Bowl. Oh, I have great respect for what Newton and the Panthers have accomplished this year. I might even add that my eight year old daughter has mastered a killer "Dab" dance modeled after the celebratory end zone antics of the boyish Cam Newton. And I have no illusions that it will be an easy game. But, in the end, it doesn't matter.
Doesn't matter??
Assuredly, there are people who will cite the uncompromising need of a Broncos win for Peyton's legacy. He will match his brother for Super Bowl victories. He will shake the reputation of being the greatest regular season quarterback while having the greatest difficulty closing the deal in the postseason. The Super Bowl 48 annihilation (by Seattle) would be a distant memory rectified by a Carolina defeat. And it would be a pinnacle walk-off achievement as his career comes to an end.
I get it.
But all of that doesn't matter. Here is what does matter.
When is the last time you heard about Peyton Manning getting into some late night brawl in a bar? Or getting a DUI? How many times have you seen him with an awkward mug shot or walking up the steps of a courthouse shielded and spoken for by lawyers or shuffling embarrassed behind a courtroom table as a sentence is being passed? When is the last time you heard Peyton Manning amassing unpaid speeding tickets and officiously dressing down a policeman or woman for pulling him over? How about domestic abuse, failed marriages or serial infidelities (substantiated stories, people)? When did you last see him intentionally stepping on a player's leg, throwing a tantrum following a referee's call or sputtering an arrogant tirade denigrating opponents (or a teammate) in a post-game interview? Or even hear about him half-heartedly attending a charity event on behalf of the team?
You see, that's just it.
Not only is it near impossible to find black marks on the career of Peyton Manning.
You find the exact opposite.
Now I want you to do me a favor. Before you go any further, click HERE and consider Peyton's stunning professional accomplishments. Just look at all of the awards and records and victories. Naturally, one might reason that an internationally revered professional football player who has broken record after record and achieved victory upon victory would naturally drift into an impenetrable bubble of egotism and selfishness. Wouldn't that be…typical?
But that's the wonder about Peyton Manning. That's simply not who he is.
In September, 2014, Peyton received a letter from military wife Kristen Patterson asking if her husband could meet him when they would be in Cincinnati for the Bengals-Broncos game. Peyton didn't simply discard the letter, or send a mass-produced autographed photo. He had the team go in search of the Pattersons who were based in Alaska and had left no return address. After three months of Broncos-led detective work, an Alaska state trooper located the family to tell them that Peyton and the Broncos were trying to locate them. Before the Pattersons knew what happened, they found themselves in a private conference room of the Bronco's hotel in Cincinnati with Peyton Manning. The warm and affable quarterback joked, "You guys are really hard to find." Pictures were taken, autographs signed, a young daughter was introduced and Peyton parted with thanks for the soldier's service to his country.
In September, 2015 the phone rang for Wyoming's Kari Bollig.  After she hung up, she recalled, "I kind of stammered and stuttered around…Are you kidding me?" It was the Denver Broncos. Peyton Manning had received her letter and wanted to meet her. Kari is dying of widely metastatic breast cancer, and her letter simply expressed appreciation of Peyton's inspiring life on and off the field. Before long, she spent two days at the Broncos stadium, watched walk-through practices, met players, toured the facility, went to the Broncos-Ravens game…and met Peyton Manning. "It was a once in a lifetime thing." She would treasure the experience forever.
Two months ago, former University of Michigan football coach Lloyd Carr's grandson Chad tragically died from an inoperable brain tumor. He was five years old. Within three weeks, a handwritten note arrived to Chad's parents.
Dear Carr Family,

I am very sorry for your loss. Please know that you are in my thoughts and prayers during this time. "Blessed are those who mourn for they will be comforted" (Matthew 5:4) I watched the ESPN special on your son Chad. His courage and fighting spirit is inspirational. Jason, I believe we met years ago on my visit to Michigan. Please tell your dad hello and that I am thinking of him as well. May God's peace be with all of you.

Sincerely,

Peyton Manning
The note came quietly. No announcement or fanfare accompanied it. Quite simply, it was a private act. It only became public knowledge when the family posted the note on Instagram.
There are countless other examples. The letters to patients undergoing neck surgery or battling cancer, the Make-A-Wish events that exceed everybody's expectations, and even the famous image of the soundly defeated Peyton Manning privately seeking out the injured (and notoriously cocky) Seahawks defensive back Richard Sherman after the Super Bowl simply to see if Sherman was okay. Peyton never publicly complained about his neck surgery or his recent benching; he simply worked harder. He never berated a reporter's critical question; he answered them (consistently by first name) with humility and honesty. He was simply human.
This is why Peyton Manning matters.
With the closing seconds of the Super Bowl, we will see the spotlight on a champion competitor. But even more, we will wistfully see the passing of an old guard, the waning of an ethic, the retirement of one of the truly good ones. A player and a man who honors his opponents and dignifies the underdogs, who credits others and downplays himself, who mentors his understudy and still seeks advice, who strives toward the future but remember his roots, who never forgets to be grateful.
President Harry Truman once astutely noted,
"Fame is a vapor, popularity is an accident, riches take wings, those who cheer today may curse tomorrow and only one thing endures – character."
Indeed.
To Peyton Manning, if you ever read this and I hope you do, win or lose – you win.
Thank you, thank you.
And Godspeed.
————————————————
Photo courtesy of Jeffrey Beall from Wikimedia Commons