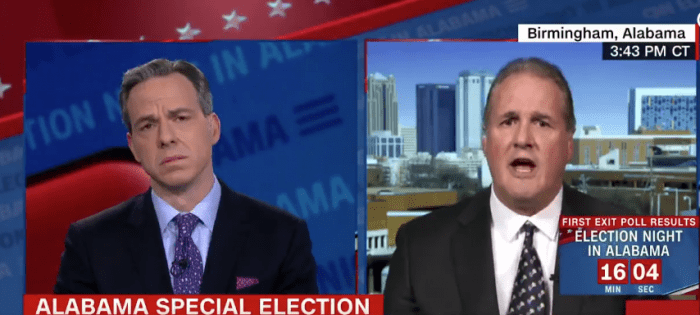 This is an amazing video.  Jake Tapper had a Roy Moore spokesperson, Ted Crockett, on his show today, to discuss Roy Moore's position on whether gay sex should be illegal.  The spokesperson seemed hesitant to say at first, but reiterated that this country was founded on Biblical values and principles.
When Tapper mentioned the "separation of church and state," and began to suggest that we have some laws that aren't based on the laws of the Christian Bible, the spokesperson interrupted and said that people in the media and Hollywood want to erase our history.
"Homosexuality is a sin in the Biblical sense.  That is where Roy Moore is in the state of Alabama," Crockett said.  "You don't understand. You do not understand."
Finally, an exasperated Tapper pressed him on whether Roy Moore believed homosexuality should be illegal.  "It's a yes or no question."
Crockett paused for a few seconds, then said, "Probably."
Tapper asked what the punishment should be if people had gay sex, Crockett responded, "It's just a sin."
"You people want to take two or three thousand years of our history and y'all just want to throw it out the window, as if you're going to just make your own rules, your own man-made rules and do whatever you want," Crockett said.  In the video below, make sure you watch Tapper's face as Crockett explains this.
Then, without even one drop of sarcasm, Crockett says, "That's part of the problem we have in Washington DC today. Too many people winging it.  Fooling with people they shouldn't be fooling with."
Um, really?  Moore, a credibly accused pedophile, is seeking to be sent to Washington, DC.
Watch the interview below:
Does Roy Moore think that homosexual conduct should be illegal?

Roy Moore campaign spokesman: "Probably."https://t.co/syuQfsAvO5 pic.twitter.com/nPDYLfQahY

— The Lead CNN (@TheLeadCNN) December 12, 2017
Image Credit: Screen Cap