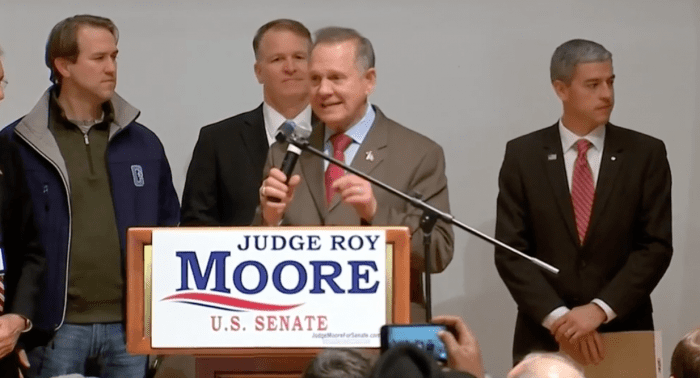 Roy Moore's "concession speech," wasn't a concession at all.  Roy Moore came out onto the stage to chants of "USA, USA, USA!"  after losing to apparent winner Doug Jones in the Alabama Senate election.
"Thank you," he said. "I really want to thank you for coming tonight. Realize, when the vote is this close, it's not over.  We've still got to go by the rules about this recount provisions.  The Secretary of State has explained it to us, and we're expecting the press will go up there and talk to them to find out what the situation is.  But we also know that God is always in control."
At this, the crowd erupted into cheers.  Previously, some people were singing "Great is Thy Faithfulness" in front of the audience of supporters.
"You know, part of the problem with this campaign was that we have been painted in an unfavorable and unfaithful light," he said.  "We've been put in a hole, if you will, and it reminds of a passage in Psalms 40."
He proceeded to quote the beginning of that Psalm.
"I waited patiently for the Lord and he inclined unto me, and heard my cry. He brought me up also out of an horrible pit, out of the miry clay, and set my feet upon a rock, and established my goings.

And he hath put a new song in my mouth, even praise unto our God: many shall see it, and fear, and shall be moved by that… if you will."
Apparently, Moore forgot the rest of the passage, then left out a significant portion:
So when Roy Moore refused to concede, he tried to quote the Bible from memory… but got the actual quote wrong and omitted this part: "Blessed is that man that maketh the Lord his trust, and respecteth not the proud, nor such as turn aside to lies." pic.twitter.com/bGaiGcjCGV

— Nancy French (@NancyAFrench) December 13, 2017
He left out: "Blessed is that man that maketh the Lord his trust, and respecteth not the proud, nor such as turn aside to lies."
Watch his non-concession below:

X