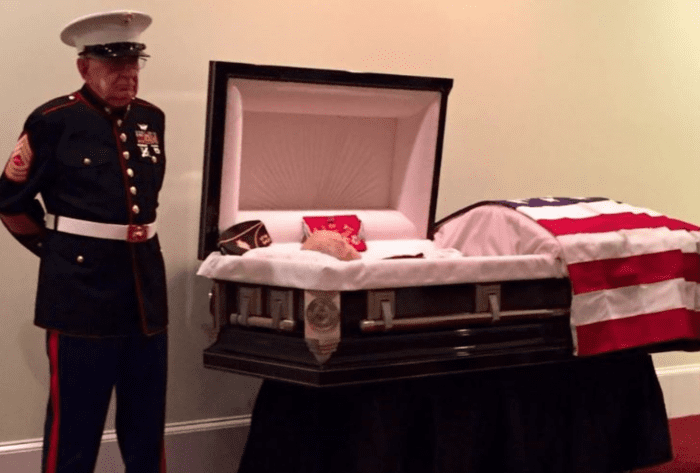 During the Vietnam War, two Marines — Master Sgt. William Cox and Sgt. James "Hollie" Hollingsworth — met and became fast friends.  There's something about war that brings people together in ways that civilians just can't understand.  One time, Hollingsworth told Cox that "You know me better than my family."
After the war, the friends had to leave each other, but stayed in touch.  Even after Hollingsworth moved to Georgia and Cox stayed in the military, the two stayed in regular contact.
In fact, they promised to visit each other and to call every New Year's Eve. When Cox visited Hollingsworth in 2017, his terminally ill friend asked him to deliver the eulogy at his funeral.
IJR has the details:
"After I left his house, I broke down," the Marine recalled to CNN. "Not about what he asked me to do, but that he was going to be checking out of life, and I was going to be a part of his departure. But I was obligated."

Unfortunately, Hollie died in October, at 80 years old, and true to his word, Cox was there by his side.

"There's a bond between Marines that's different from any other branch of service. We're like brothers," Cox told USA Today.

He concluded his eulogy with a familiar phrase among the friends, "Hollie, you keep 'em flying, and I'll keep 'em firing."
What a touching story!  After they made their pact in 1968 to call every New Year's Eve, they never broke it.  Until this week when the clock struck midnight to ring in 2018.  IJR's last sentence is devastating. "For the first time in almost 50 years, when the clock strikes midnight on Sunday, Cox won't find his friend on the other end of the line."
Hat Tip: IJR
Image Credit: WIS TV/Facebook