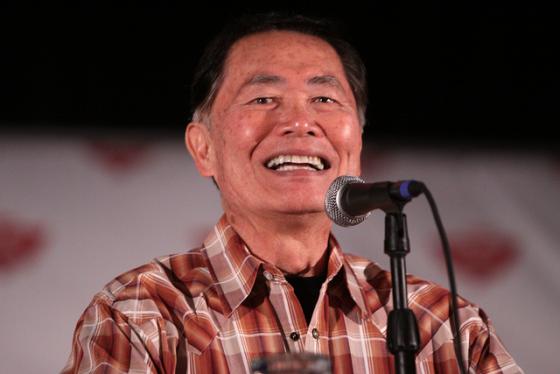 Like many liberals, it hurt to see one of 'our guys' be accused of sexual assault. George Takei and I agree a lot on politics, but I shouldn't hold him to different standards because of that.
Just as I was processing this in my head, I saw a clip of Takei admitting to Howard Stern he had to 'persuade' men to have sex with him. It really made me sick. Here is the video and a transcription from Mediaite.com:
Stern and Takei are talking about Harvey Weinstein and also how Trump claimed to grab women by their genitals.
"Did you ever grab anyone by the cock against their will?" Stern asked Takei.

Takei remained silent.

"Uh oh," Stern reacted to the non-answer. "You've never sexually harassed anyone, have you?"

The Star Trek star began awkwardly laughing.

"Some people are kind of… umm… skittish," Takei responded. "Oh maybe… um… afraid and you're trying to persuade."

"Do we need to call the police?!?" Stern exclaimed. "What are you saying, George? You've never held a job over someone if they didn't touch your cock."

"No, I never did that," Takei answered. In regards to Weinstein, he added, "It's not about sex, it's about power."

"But you didn't do this grabbing at work," Stern's co-host  Robin Quivers asked.

"No, it wasn't at work," he clarified. "It was either in my home- he came to my home."

"So what do you mean?" Stern asked. "You mean some guy who was hesitating to have sex with you and then you gave him a gentle squeeze on the balls or something?"

"More than a gentle…" Takei laughed. "But it didn't involve power over the other."
I can't believe that clip didn't get more attention, as it's pretty disgusting by itself. It's especially awful now that someone has accused him of assault. I'd be shocked if more people don't come forward.
First off, they laugh and joke throughout the segment, but they are discussing sexual assault. That's just awful. Beyond that, Takei seriously admits he would grab men by the genitals to "persuade" them in having sex with him. It certainly does not seem very consensual the way he describes it.
If someone is "skittish" or "afraid" and you think that's a good time to grab their genitals, that is absolutely wrong. Finally, just because you grab someone who doesn't work under you, it doesn't make it okay. I was amazed that Takei shifted this conversation into that. If there isn't consent, it's assault. It doesn't matter if they came over to his house.
Takei often spoke out against sexual assault with Trump. But this clip shows he may not take the subject very seriously with himself.
PS: I now have a Patreon if you'd like to support my writing and podcasting.