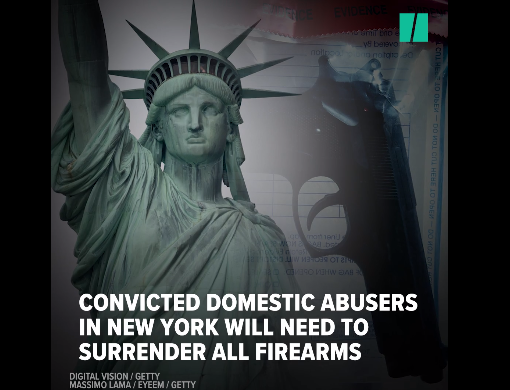 Reducing gun violence is America is a complicated problem. However, certain gun laws seem pretty obvious. One of those is revoking gun ownership to domestic abusers. There is a huge overlap between gun violence and domestic violence.  Too often we learn that mass shooters also had a history of domestic violence. It just makes a lot of sense to ban domestic abusers from having guns.
New York passed a bill that prevents those convicted of domestic violence from owning guns. All guns. Previously, New Yorkers could still own certain types of guns after being convicted, but now that loophole is closed. The bill passed 85-32 in the New York House and 41-19 in the Senate. New York Governor Andrew Cuomo (who was advocating for this bill for over a year) said:
"New York is once again leading the way to prevent gun violence, and with this common sense reform, break the inextricable link between gun violence and domestic violence. This legislation builds on our gun laws ― already the strongest in the nation ― to make New York safer and stronger."
Over half of mass shooting from 2009 to 2016
were done by someone who had a history of domestic abuse. So this law would make it harder for violent people to get their hands on guns. Having a gun present increases the risk of homicide in domestic disputes
by over 500 percent as well. 
 It makes zero sense for someone to keep their guns after they already have been convicted of behaving violently at home.
Hopefully more states will follow New York and ban domestic abusers from owning all guns. This is one of the most obvious gun laws being proposed in our legislature. It seems like it should be something both conservatives and liberals would agree on.

PS: I now have a Patreon if you'd like to support my writing and podcasting.