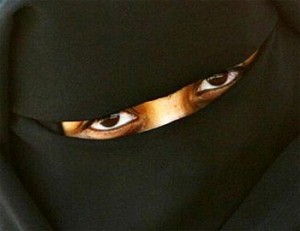 This post on Between a Veil and a Dark Place — What it is like to be a Muslim woman, and why we know what freedom is (and you may not) — is like a bad car accident. You pass by and it's not you, but you can't look away because it's horrible, and it's SOMEBODY.
I have keys.

When I first moved to the United States eleven months ago, it took me several weeks to grasp this bit of information.

I have keys.

I have keys to my own front door and I can open this front door and walk down the street whenever I want to.

I can walk down the street without being watched through the windows and without anyone calling my parents and telling them I am roaming loose on the street.

I can walk down the street, sit down on a bench under a tree, and eat an ice cream cone. Then I can stand up and walk back home.

There will be nobody waiting for me at my house to ask me where I have been, refuse to let me in, call me a liar, and use my walk as renewed incentive to rifle through all of my possessions for proof that I am doing something wrong.

Because the simple desire to take a walk cannot but hide something deviant.
The piece speaks line by line of new-found freedoms, and you would expect subject matter like that to inspire joy. Instead it provokes horror: Every freedom described is a reflection of soul-sucking bleakness, a murderous militancy over matters so utterly miniscule it can only leave you gasping "Why? Why?"
A second reflection arises out of the robotic cadence of the writing. Thought the writer is free to do all the things she writes about, she still stands partway in that world of tortured bleakness; rather than relating a tale of victory in battle, the lifelong battle against frozen repression, she speaks merely as a stunned survivor.
If I spend more than five minutes in the bathroom, nobody will bang on my door demanding to know what I am doing in there.

I can shave my legs without being interrogated as to why I'd do such a thing when nobody ever sees them.

I can brush my hair and look in the mirror and try on clothes and try to feel like I can manipulate and move and enjoy my body, try to feel pretty, without being interrogated and asked who he is and how long I have been seeing him and what I am doing with him and whether I am a prostitute or pregnant.

I can slim down inadvertently or say I am not hungry for dinner without anybody demanding to know why and for whom I am trying to lose weight.

I can shower without being asked why.

I can smile because I had a good day at work without being forced to explain why I am so happy.

I can cry at my empty, robotic life without being forced to explain why I am unhappy.

I can have facial expressions. Facial expressions.

I can have facial expressions.

I can have facial expressions.