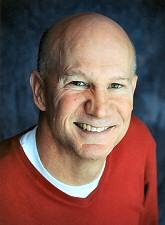 C. J. Mahaney has, in recent years, been introduced to a new audience due to his friendship with Mark Dever and Company. I have known of him since the 1980's, and loved to listen to him live at early Newfrontiers Bible Weeks.
In January of 2008, C. J. started blogging at the Sovereign Grace Blog—C. J. Mahaney's View From the Cheap Seats and Other Stuff. The headlines from this blog will be appearing in my Warnie Winner's Box from now on.
It was a real honor for me to be able to ask C. J. some questions via e-mail.
***************
Adrian
It is my great pleasure to welcome to the blog one of my greatest heroes in the faith, C. J. Mahaney. C. J. is well-known as a preacher and the leader of Sovereign Grace Ministries. More recently he has been gaining fame in the world of blogs as the husband and father of the writers of GirlTalk. He is also the mentor of another well-known blogger and author, Josh Harris, who I have also interviewed.

Welcome to the world of the blogosphere, C. J. It was great of you to join us for this interview. I would like to talk to you today about your new book, Humility—True Greatness. First of all, what prompted such a book? Whose idea was it, and how was it born?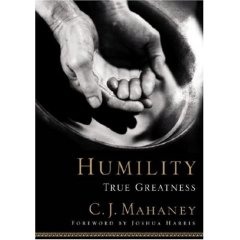 C. J.
Adrian, I'm honored to be interviewed! I can assure you the idea for this book was not mine! I didn't volunteer to write this book, and there were countless times while writing it that I had the following thought: "You idiot! Why did you agree to write this book?" I was approached by my publisher to write the book, and I was encouraged by my wife and friends. After some initial reluctance, I agreed to do it. I can assure you that writing about humility is a humbling experience.
Adrian
It seems from what you are saying and from my reading of the book that humility is actually something of a lifetime message for you. Am I right in that assessment? Do you believe that one of the biggest needs of the Church today is for leaders to emerge who have the authority to lead, but the humility to do so graciously? If so, how will this book and other resources help in producing such leaders?
C. J.
Adrian, you ask good questions and you ask a lot of questions! It is true that I have been studying both humility and pride for many years for the purpose of weakening pride in my own life and cultivating humility by the grace of God. And I think Scripture is clear about the priority of humility, not just for leaders, but for everyone who professes to love and serve the Savior. In Isaiah 66:2 we read the following astonishing statement:
This is the one to whom I will look: he who is humble and contrite in spirit and trembles at my word."
Although God is aware of all things, he is searching for something in particular, something that acts like a magnet to capture his attention and invite his active involvement. And that something is humility. God is decisively drawn to the humble. It is my hope that this book will remind the reader of the priority of humility in the divine economy and the gracious promise of God "to give grace to the humble (James 4:6; 1 Peter 5:5).
Adrian
There seems to be at least one controversy about the book already. You claim in the book not to be humble yourself, but everyone who knows you—including some of the people who have provided endorsement quotes—seem to disagree! I guess such disagreements are inevitable, and it would seem wrong for anyone to say, "I used to be proud, but now I am humble." Nevertheless, I know you have made it a life's goal to apply humility to your own life. And others certainly believe they can see the fruit of that.
Indeed, the one thing I remember more than anything else from the time I had the pleasure many years ago of having breakfast with you was your humility. I will never forget you thinking us, a group of young men Henry Tyler had gathered together in order to spend some time with you. I have to say that I looked at you then, and in all your messages, and thought, "I want to be like C. J."
I would guess that hearing those kind of comments so often makes the struggle we all share with pride all the more difficult. How do you cope with the attention and multiple expressions of gratitude you undoubtedly receive? How does a successful church leader like yourself ensure he doesn't succumb to pride?
C. J.
I'm very grateful for the kind endorsements of friends and your kind words. The presence of any humility in my life is purely and completely an evidence of God's grace. From my perspective, I am not a humble man. I am a proud man pursuing humility by the grace of God. But I am encouraged to know that others discern the presence of humility in my life, and it is my hope that these rumors will spread far and wide!
When I'm the recipient of encouragement (for which I am very grateful) I will assign all glory to God in prayer for I know it is all of grace. During the day, and at the end of each day, I follow the counsel of Thomas Watson who wrote, "When we have done anything praiseworthy, we must hide ourselves under the veil of humility, and transfer the glory of all we have done to God." This practice is an effective means of weakening pride and cultivating humility.
As for how to avoid the temptation and tendency to pride, the book describes different biblical practices I have employed in this life-long struggle. I hope the reader finds them helpful in their struggle with pride and attempts to walk humbly before God.
Adrian
One of the things you did in recent years which many people felt was a humble thing was to pass on the leadership of the local church you had pastored for many years. As a young and reportedly still athletic man yourself, would you talk to us a little bit about your thinking concerning that decision. Were there indeed biblical principles of humility involved?
C. J.
One of the great joys for me has been the faithfulness of God to answer a prayer I began praying in my early 20's for the one who would replace me. Over the years I have studied church history, as well as the contemporary church, and I noticed how rare it is for a God-glorifying transition of leadership to take place in a local church. Churches have been adversely affected simply because no thought had been given, no leadership taken by the pastor, for this important decision and transition. I didn't want that to be the experience of Covenant Life Church.
Last September I transferred the role of Senior Pastor to Joshua Harris. The entire weekend was on the short list of the most meaningful and memorable ministry experiences in my life. I have had the privilege to serve Covenant Life Church for 27 years. Outside of my family, the folks of Covenant Life are the dearest people on earth to me, and they have made me the happiest pastor on earth. One of the most effective ways I could serve them was to identify my replacement, train him, transfer the church to him, and then continue to serve him. In his kindness, God has allowed me to live to see this all take place.
I simply can't describe the joy I have experienced as Josh has been leading the church. Joshua Harris is an impressively humble young man and an unusually gifted young man. I believe his gifting easily exceeds mine, and it is a pure joy to know that the church I love the most is being led by someone as humble and gifted as Josh. Lord willing, I hope to serve him in his new position for the rest of my life.
Adrian
What do you do with your time now that you have handed over the church? Is it still your goal to develop other leaders? How do you practically do that? What advice would you have to those with emerging roles in local churches about how to exercise leadership while being committed to humility?
C. J.
For years I was attempting to lead both Covenant Life Church and Sovereign Grace Ministries. So now I have the joy of serving Sovereign Grace exclusively. We have a passion to advance the gospel through church planting. We train leaders each year in and through our Pastor's College.
As for advice to those with emerging roles in local churches, I wouldn't know how to answer such a good and important question briefly or concisely. Although this book wasn't written exclusively for those in leadership, I think the content of the book is applicable to leaders and will serve them as they lead and exercise authority. Pastors are called to lead, but for their leadership to be truly biblical it must be humble.
Adrian
Thanks for joining us C. J. Before you go, would you perhaps summarize for us in a few words the message of your latest book, and how you hope it will help its readers?
C. J.
John Stott has written, "At every stage of our Christian development and in every sphere of our Christian discipleship, pride is the greatest enemy and humility our greatest friend." I hope this book will assist the reader in opposing pride, our greatest enemy, and cultivating humility, our greatest friend. And I hope the book effectively reminds the reader that we do this recognizing that only one has been truly and fully humble before God—only our Savior, Jesus Christ. Only One in all of history has ever completely and perfectly obeyed Isaiah 66:2. Only One! Only Jesus! And he did this on our behalf, as our representative, and ultimately as our substitute, dying on the cross for sinners like you and me.
***************
NOTE
Justin Taylor has also recently interviewed C. J. on his blog.
UPDATE
In January 2008, the following post was identified as the 8th all-time most popular post with readers of this blog. The 9th most-read post was "A Thanksgiving Sermon—The Importance of Gratitude."