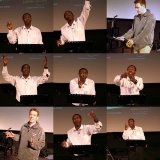 Josh Harris has a great post on sermon preparation:
"Call the congregation to act! Our expectation as the sermon comes to an end, is not merely that people will understand or remember or enjoy our teaching, but that they will do something about it. If there is no summons, there is no sermon!
The precise application of your sermon depends on the character of the text. The dominant thought points us to how people should act in response. Does the text call to repentance or stimulate faith? Does it evoke worship, demand obedience, summon to witness, or challenge to service? The text itself determines the particular response we desire.
Consider the composition of your congregation. It is good to let your mind wander over the church family and ask prayerfully what message God might have for each from your text. Consider their unique circumstances, weaknesses, strengths and temptations. "