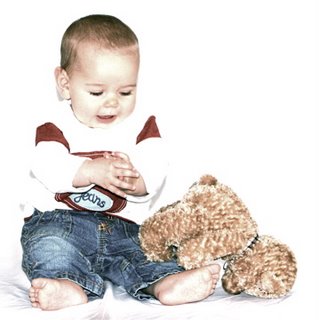 Hi! It's Mrs.W here again! The stage of life I am in currently involves spending a lot of time caring for my lovely 7 month old baby, George. He is now clapping his hands, rolling over, and sitting up. He also has his first tooth! He is such a cute little boy, and we all love him to bits. But he is also very vulnerable. He needs to be watched and cared for all the time, for he has no idea at all how to look after himself and keep himself safe. In Jesus' time I believe many children would die before reaching adulthood. Jesus made himself that vulnerable for us.
He Chose This Way
There are so very many things
That I will never know
But most of all I wonder why
You chose to stoop so low.
A birth amongst the cows and hay
Your earthly life began
Your babyhood and toddler days
Were all part of the plan.
You walked and talked and laughed and cried
And played as children do
But as you grew you never sinned
Because you were God, too.
Why did you choose to be a child
When you're the King of all
You suffered pain and took my shame
While I cared not at all?
You broke the power of sin and death
And freed me from the law
You rose again to give me life
And joy forever more.
What can I say but 'thank you, Lord'
What can I do but praise?
And by your grace to seek your face
And love you all my days.
— Andrée Warnock