As we drew to the close of part one of this interview with Rob Rufus we were emphasizing the need for charismatics to continue to value the Bible. Today we begin with a question my pastor, Tope Koleoso, asked. This is a lightly edited transcript of what was actually said.
Tope
I've got to say, I agree with you. Definitely for me in listening to all the sessions that you did, and for us as a church, having taken so many to this conference, and also as a pastor, having the privilege of speaking with other pastors—the response that I've been hearing back, certainly from my own perspective, has been that in the talks there has been a depth of theology, not just the push of an experience; there has been this depth of theology as the verses and the references have come out, but you have also told us of the experiences—what this would look like and what God can do. And beyond you describing this, we also saw what God did among us. So those two sides then—the Word and the Spirit—I would say we saw that, but I would say we also saw—I could put it this way—the Lion and the Lamb. There was a real confidence in the way I thought the talks came across, but also the gentility of getting to know the Person of the Holy Spirit. And I wondered—is this something that you've always had? Is it a style of preaching that you developed or what?
Rob Rufus
That's an outstanding question, Tope. As I mentioned in the conference, before I became a Christian I was a Hare Krishna. I was practicing strict Hinduism very aesthetically.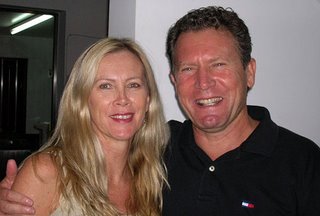 One of the things that attracted me to Christianity was that when I went to a meeting where the power of God was being manifested—where cripples were walking and deaf ears were opening and the power of God was there—it made me realize that Christianity can never be reduced just to a philosophy, but it has to declare that Jesus is alive; He is a risen living Saviour. So I came into the kingdom of heaven through seeing the supernatural—I was birthed in the miraculous. But then I had mentors that loved the Scriptures as well. We were kind of like charismatic Calvinists, in other words we had reformed theology of the sovereignty of God and the attributes of God and the awesomeness and the transcendence of God and the love for Scripture. But along with that was this recognition that Paul, one of the greatest apostles and one of the greatest theologians you could ever imagine—raised the dead. He moved in signs and wonders, the supernatural. So I think it's fraudulent to say we are walking in a New Testament apostolic life if all we are is into the Spirit because that gets quite unusual and flaky and unhealthy after awhile. Or it's fraudulent to say, "I'm apostolic; I'm into the Word of God, but we don't have a demonstration of power. Paul had both, and I think that's what good theology is. I mean, Jesus was the theologian of theologians, and he said to someone—you're wrong because you don't know the Scriptures AND the power of God. So he married the Word of God and the Scriptures together.
Adrian
Very good! Very good! So for you, growing up into that whole kind of charismatic Calvinist thing, you sort of laughed when you said it. Did you feel like you were a bit of an oddity? Were you aware there were others out there like that? Or was there just a small group of you and you felt a bit weird? Because that was our experience!
Rob Rufus
Adrian, that's exactly how we felt! I got saved in 1977, I think, so it was the tail end of the hippie movement. We all had long hair and all of that stuff, and yet with the gifts of the Spirit in operation, we would do expository preaching right through the Bible. We would study books at a time—go through the book of Hebrews chapter by chapter.
Adrian
So your preaching wasn't always like it was this week?
Rob Rufus
(Loud laughter) Of course not! I was inducted into Christianity through expository preaching, and that wasn't me; it was my mentor.
Adrian
So you do that kind of expository preaching yourself?
Rob Rufus
I do occasionally. I have been in the church plant in Hong Kong for three years and I haven't done a book yet in expository form. But we will. That is something I do. But in the middle of all that expository teaching, there were gifts of the Spirit—very passionate outreach and evangelism in the streets. So reformed denominations for whom I have great respect (I really do) who love the Scriptures—they couldn't quite work us out. We were a bit of a strange case! We were charismatic Calvinists. And yet I feel like in today's world, I think what's happening is that a lot of committed evangelical people who love Jesus, who love the Scriptures, are suddenly to their relief, finding out that people who are full of the Spirit and know the supernatural power of God love the Scriptures as well. And I believe it's giving them a sense that a bridging is taking place. I think, too, that those people who are moving in the power of God and love the Scriptures—we need to be humble and realize that evangelicals have a rich legacy that we can learn from, and I think we can enrich each other.
Continued in part 3 . . .