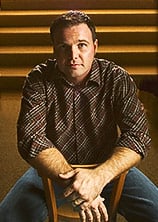 Regular readers of my blog will remember that, together with my pastor, Tope Koleoso, we had the joy of being able to chat with Mark Driscoll when we went to Edinburgh to hear him preach live. We were deeply impressed with his graciousness and kindness to us. In this, he reminded me of a man who is one of my other living Christian heroes—Terry Virgo.
I know that many people were disappointed not to be able to make it to Scotland to hear Mark. So I am delighted to relay an announcement from Terry Virgo's blog today. Mark Driscoll has agreed to speak next July at the Newfrontiers Leaders Conference in Brighton, UK. Here is how Terry begins his post:
"The last time I checked, the Pope was still a Catholic, the death rate was still hovering at around 100%, and the chances of getting Mark Driscoll to speak at a conference in the UK in 2008 were averaging at zero.

It is therefore with great delight that I can announce that we have, with the aid of certain friends (for an inspired guess see Adrian Warnock's blog), arranged for him to be our main visiting speaker at Together on a Mission in Brighton next year, 8-11 July 2008.

In recent months I have found myself listening to downloads of Mark Driscoll's preaching, probably more than anybody else's. I find him completely arresting, relevant, Biblical, funny, aggressive, and packing a real punch. I believe he will do us a lot of good.

I love his value system and I am impressed by what has been accomplished by God through his ministry based in Seattle, where a church of several thousand has been built in a few years, starting from almost nothing and largely not through church swapping, but conversion.

He is theologically reformed, Biblically orthodox, and culturally relevant, and particularly addresses the post-modern world with remarkable insight. I have just read his chapter in the Crossway publication, The Supremacy of Christ in a Post-Modern World. I found myself underlining sentence after sentence, and simply wrote 'Wow!' in the margin at the conclusion of the chapter. I am deeply grateful to God that he will be with us." Read more . . .
This is a fantastic piece of news. Terry and Mark are both pastors of pastors. Church planting is a major need of our world today. Leaders themselves need to be trained.
As an example of Terry's gifting in operation, he has recently finished a series of posts on the vital role of the pastor in the life of a church. He re-examines the biblical teaching. I will finish this post by giving you a taste of each post in the series, but do go and read them all; they are worthy of careful study.
As a movement, Newfrontiers has tended to emphasise the role of apostles and prophets. The church was originally built on the foundation of apostles and prophets (Ephesians 2:20) so they gave the people of God their fundamental identity. I have argued that we were not built on a pastoral foundation.

My argument has often been expressed by noting that pastors are called to care for and feed the flock and meet the flock's needs. An over-emphasis, therefore, on the pastoral role can result in pre-occupation with needs. We could become need-centred instead of apostolic and prophetic, thereby missing God's intention and forgetting the bigger picture, building churches that gradually become foreign to the atmosphere of the New Testament.

I have been alarmed at the possible danger of a church becoming introverted, developing a culture where personal preference dominates and shepherds major on discerning and serving people's so-called 'felt needs'. However, in taking this stance, we may have failed to bring adequate positive Biblical teaching about the vital role of pastors and teachers. They are, of course, the most visible ministers in the local church. They have the most 'hands on' role among the flock. Read more . . .

Jesus didn't say, 'I am the good apostle,' or 'the good prophet,' or even 'the good evangelist,' but happily claimed to be the Good Shepherd. . .

Although the Lord was their ultimate shepherd, it is clear that God actually enlisted men to fulfil the shepherding role on His behalf. . .

As the apostles go, their intuitive strategy in obeying the command was to plant churches, establish flocks and appoint shepherds to care for them. Read more . . .

When Billy Graham came to the UK in the 1950's and '60s, the call to return to God would have been generally comprehended by that generation. Today we live in a different era and though people can be born again through encountering the simplest message, we must not assume that initial conversion will result in inevitable Christian maturity, or even basic understanding of Christian living.

Deconstructing people's world view
The role of the modern shepherd includes a call to deconstruct people's previous world view. Nothing can be taken for granted. Lives need to be re-formed. Coming from a fragmented and aimless society devoid of any trace of Christian values, people need to be re-socialised and taught how to relate in godly ways.

Raised on self-indulgence, consumerism and rampant individualism, the new convert won't automatically be transformed into a mature Christian who knows how to conduct himself in the household of God (1 Timothy 3:15).

God has promised to give His people shepherds after His own heart who will feed them with knowledge and understanding (Jeremiah 3:15). This feeding requires a radical approach. We are not called to build on a false foundation with teachings that imply merely personal fulfilment or the grasping of the individual's full potential, or how to love oneself. The shelves of many a Christian bookshop are filled with titles which appeal to personal fulfilment as the goal of the Christian life. Coming from a culture where demanding your personal rights seems to be the bottom line, new Christians hardly need that diet. Read more . . .

. . . Holy Spirit-inspired preaching brings about an enc
ounter with God that demands a verdict and produces a changed life based on revelation, faith and love, not cold obedience to external rules.

God's flock will intuitively hear His voice and respond as truth is fed to them by called and anointed pastor/teachers. Gradually a culture of God-centredness will emerge characterised by worship, faith, grace, mercy, respect, service and the awareness of being an alien people whose fundamental citizenship lies elsewhere (Philippians 3:20) . . .

The shepherd's ability to feed and be a channel of God's grace will result in the gathering of a flock. The sheep gather to the gifted anointing of shepherding and thus a flock forms.

The responsibility of the shepherds is not simply to expound truth but to develop relationships of love and trust, and in some cases to 'parent' a flock often made up of those who have never been parented before. Read more . . .