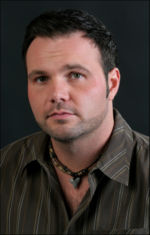 Mark Driscoll was in fighting form at DGM. You can download the mp3 or watch the video over at the DGM site.
He argues passionately for the vital place of clear language that doesn't pull any punches. Anyone who thought that Driscoll's choices about how to speak were just laziness on his part ought to listen to, or preferably watch, this talk. You will find that he has a very clear, reasoned argument from Scripture for the need to be salty in our communication. My two favorite lines were:
"Feed the sheep, rebuke the swine, shoot the wolves," and
"Don't judge the God of the Bible by Victorian nicety or political correctness."
For more information about Mark Driscoll, see my interview with him, or his blog.