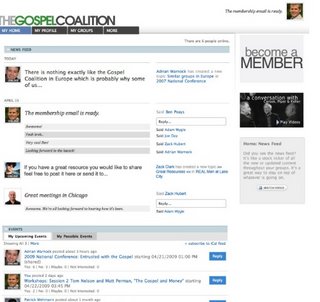 I can exclusively announce that the all-new and FREE Gospel Coalition Network website opened just a few minutes ago. The kind people running it have offered blog readers like you the chance to be first in line to join.
If you already know what this is all about, then feel free to just follow one of the links below depending on which continent you're on, since this genuinely is a global offer. Don't worry, you will have access to the whole community no matter where you live. Then, do feel free to mention this on your own blog, or view my profile and add me to your contacts to follow my updates. You can also join a group to discuss the resurrection and help me choose my book cover!
There are options during the sign-up process controlling privacy settings which determine who can see your information. Although it refers to "state" and "Zip code" those from other countries can simply input our "country" and "post code", instead although giving an address at all is optional.

To join, simply follow the links:
This is just the beginning of what I'm sure will be a very exciting development, as I will try to explain in the rest of this post.
If you love the old old gospel, then you are very likely to find yourself in agreement with the vision of the Gospel Coalition. Their introduction begins:
"We are a fellowship of evangelical churches deeply committed to renewing our faith in the gospel of Christ and to reforming our ministry practices to conform fully to the Scriptures. We have become deeply concerned about some movements within traditional evangelicalism that seem to be diminishing the church's life and leading us away from our historic beliefs and practices. . . These movements have led to the easy abandonment of both biblical truth and the transformed living mandated by our historic faith. We not only hear of these influences, we see their effects. We have committed ourselves to invigorating churches with new hope and compelling joy based on the promises received by grace alone through faith alone in Christ alone. . ."
There is also a Confessional Statement and a Theological Vision For Ministry which are both well written documents worthy of careful study. I uphold their principles without reservation. The network allows me and many others like me to publicly declare our agreement with those ideas.
The Gospel Coalition is running their second biannual national conference next week where there will be a live webcast, but they are also rapidly developing into the umbrella organization for those who still hold to the central tenets of the Christian faith, certainly from among the Reformed wing of the church.
The Gospel Coalition Network (TGCN) is a growing fellowship of Christian churches, organizations, and individuals who are committed to a certain kind of ministry—that which is biblically-faithful and gospel-centered. There really is a new unity arising around the gospel. This includes a broad range of pastors, churches, and Christian leaders. I joined the group a little while back.
A number of Christian ministries and individuals have also already joined including: Desiring God, Sovereign Grace, 9 Marks, The Alliance of Confessing Evangelicals, Together For the Gospel, Mark Driscoll, Tim Keller, Mark Dever, Lig Duncan, Don Carson, Alistair Begg, Joshua Harris, Thabiti Anyabwile, C. J. Mahaney, Tope Koleoso, Liam Goligher, and bloggers Tim Challies and Justin Taylor.
Terry Virgo
, leader of Newfrontiers, has also joined today.

The group's council members
can be seen online. If you want to show your allegiance to Jesus' unchanging gospel as expressed by these people, your agreement with the values the documents portray, and have an opportunity to network with and learn from other like-minded people, then this is the place for you! I understand that in the future a lot of great content will be available exclusively through the network.
The technology is, in fact, a FREE version of "The City," which was developed at Mars Hill Church and is designed to be a church community building and administrative tool. Whenever this is spoken about, the thrust behind it is to build real community, not just an online "virtual" community. Thus, in the life of Mars Hill Church it is where people connect to small groups, interact with each other, share prayer requests, share practical needs, and many other things.
It seems that a similar philosophy is behind the version of the network developed for the Gospel Coalition. If you attend one of their conferences, you can use this tool to keep in touch with friends you meet there. If you want to find other gospel-focused Christians who live near enough to you to make face-to-face meetings a possibility, the tool can also help you find them.
I should add that this network is still in beta, and the folks over at The City are cooking up some awesome new features and functions that will be ready soon. Be patient with them as they grow. It will be very interesting to see the different exciting directions the community of TGC Network takes.
In the future, other churches will be able to purchase The City for use in their own congregations as it has been bought by Zondervan and is being further developed. This Gospel Coalition Network will also, therefore, give you a chance to begin to get a feel for what is possible with this tool, and may help you decide whether it is suitable for your church.
If you are on twitter, you can follow the Gospel Coalition Network and The City to keep up with future developments. If you need help, email help@onthecity.org