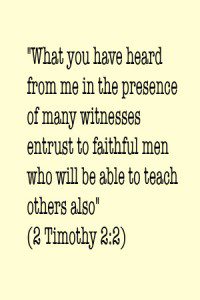 There are some controversies online that I chose to sit out deliberately. In recent weeks there has been one such raging on the subject of plagiarism. Certain accusations were made about Mark Driscoll in a radio interview online which was then withdrawn from the Internet, whilst some "citation errors" were then acknowledged by Mars Hill. The use of research assistants and even ghost writers by a number of well-known pastors  has also been discussed. I am not interested in commenting on the rights and wrongs of the specific case, but I thought I would share in this post some principles I believe that we would all do well to follow.
I would define plagiarism as "deliberately passing off as your own work something that is not your own work." As such it is fraud, and lying.  Note that there is a deliberate nature to this, rather than a small honest error.
There is an important caveat to all this, which is that pastors are not meant to be original. We don't WANT them to be original. We want them to faithfully pass on the old, old story. The closer they come to the Biblical text, the more likely they are to find themselves saying things that are highly similar to things others have said, which may of course include things they have heard or read many years before.
Many a godly preacher will from time to time begin his sermon by saying something like, "you should know that I hardly ever have an original thought, I preach as part of the community of God's preachers who have all come to the Scriptures for thousands of years.  If I was to come up with an original interpretation that nobody else had ever seen, I would be very worried!"
Paul's instruction to Timothy could sound a little like promoting plagiarism:
"What you have heard from me in the presence of many witnesses entrust to faithful men who will be able to teach others also" (2 Timothy 2:2)
In the light of this then, I offer the following principles. As always if you disagree with any of these feel free to comment below.
Preachers should lean heavily on the work of others in preparing their sermons to help prevent them from drifting into heresy
Preachers must be honest workman who carry out this sacred task with all integrity
In light of these first two sometimes competing principles, the most healthy way to approach writing a sermon is as follows:
Lock yourself away with the Bible, prayer and nothing else
When your sermon outline is almost complete, hit the books and commentaries to check your reading of the Scripture, and feel free to incorporate some of the ideas you find during your study.
Throw away your commentaries, and go back to your notes and prayerfully edit them until you have a burden to deliver that is in your heart and not just your head.
If in all honesty you know you cannot produce a life-giving sermon every week then admit this, and consider team ministry or becoming part of the multisite revolution where you can get to preach from time to time, but legitimately use someone else's sermon the rest of the time via video. Many preachers are also open to the idea of giving permission for you to use one of their sermons by video on a one-off if you need a break and have nobody to stand in.

Never tell a story you have found elsewhere as though it happened to you. God will not be mocked. And in this day and age, you could well be found out through a simple Google search. If you really have no life story of your own that is interesting enough to share, what is wrong with saying "An old preacher tells the story of one day when he was….?"
There is nothing wrong with having a researcher help you during the preparation of a sermon. In fact that arrangement could demonstrate your humility, and recognition of the seriousness of the task ahead of you. If you use one though, for the sake of the rest of us who are amazed at your productivity, please openly acknowledge this and talk about it, including in the acknowledgements section of any book you write.
If you cannot afford a research assistant, Logos Bible Software can do 90% of their work for you, and you don't even have to credit it as your helper!  (Blog readers can get 15% discount)  If you are looking for a Christmas present for a preacher, this could be just the thing. Why not just lock thousands of biblical scholars into your own study with you, and interrogate them about precisely the verse you have in front of you?

Preachers should never employ someone to write a whole sermon for them from start to finish so that they simply preach someone else's words.  Even if acknowledged this turns you into a hired hand and mouthpiece for someone else rather than the deliverer of a burden given from the Lord.
Preachers should never preach an entire sermon written or published by someone else without crediting the original author at the beginning.  They should also only ever do this very rarely.  There is a fascinating story of Spurgeon being blessed by hearing someone preaching one of his own sermons!
Preachers should never preach an entire sermon in which everything they say is original with them, and none of the commentaries they consulted agreed with their interpretations!
It is entirely legitimate to very rarely use the same heading structure as another preacher, but that should be acknowledged.
It must be acknowledged that heading structures that appear to be quite original may turn out not to be. It is entirely plausible for two preachers basing their message on an exposition of the same text to independently come up with two outlines that look almost identical. This will not happen every week, however!

What looks like plagiarism can sometimes happen by accident due to a vague memory of an old sermon that guides your writing without you deliberately trying to copy it. There is a fascinating account of a student of Spurgeon being caught re-preaching almost word-for-word one of the great preachers sermons.  Confronted by the man himself, the student confesses, perplexed, that he had not copied one of Spurgeon's own sermons but one published by an older preacher. Spurgeon, shocked, took down his copy of that preachers sermon, and low and behold, he had in fact accidentally reproduced it, presumably from having read it once years ago.  Spurgeon was known to have a prodigious memory. This is not an excuse that most normal people could get away with! (Read more about this here)
Consider citing during the sermon if you use a specific quote from another's  sermon or book word for word rather than simply an idea which you have made your own, especially if that is a memorable phrase, or perhaps say "as another preacher once said…."
Preachers should not get paranoid about plagiarism and turn their sermons into academic papers so that every minute or so they reference someone else. This massively risks losing the impact of the sermon.
Preachers could consider starting a blog to post the research that underlies their sermons. Sharing their preparation complete with quotes and citations would give a glimpse of what I call the "iceberg principle,"  that beneath the surface of a good sermon lies  a lot of work which is never usually seen.  Preachers who use Logos Bible Software in their preparation will find producing such material is very easy, and it could also allow you to make good use of portions that you considered including in your sermon, but had to cut out because of time.
When pastors publish books, they must be careful to declare their sources wherever they remember them.  If they have taken ideas from another book they should state this up front.  If, they are instead aware that they have been generally shaped by ideas from a variety of sources but would not be able to reference every point, a bibliography of further reading on the subject which the author clearly acknowledges has shaped him over the years is a very legitimate and helpful thing to include.
It is time that we recognised up front that preachers are not the perfect sources of a sermon that is unadulterated by material from anyone else we imagine them to be. Preachers who pretend that they do not need to consult anyone else's work in preparation are proclaiming a false image to their congregation. They are also likely to be putting off potential preachers who recognise they are not clever enough to produce such material on their own.  I would love some of the preachers we all respect to be more open about how much they really do rely on the insights of others and so inspire young preachers not to try and "wing" their sermons without a safety net.
I commend these principles to preachers everywhere and ask for any feedback or further suggestions in the comments section below