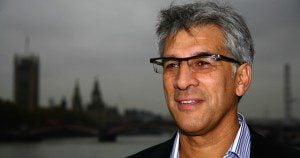 In a statement reproduced in full below along with Oasis' response, the Evangelical Alliance have today discontinued the membership of Oasis Trust, the organisation which Steve Chalke leads.
For a number of years now, Steve Chalke, who was once the UK's leading Evangelical figure has been drifting away from a typically Evangelical approach to the Bible. This began ten years ago when Steve Chalke rejected the traditional Evangelical view of what the cross accomplised as "cosmic child abuse."
Background Articles
Chalke didn't just change his own mind on what is commonly called penal substitution, but portrayed the opinion of the wider evangelical church as unacceptable. It was clear even then that he did not approach Scripture in the same way most Evangelicals always have. It is really that different approach that has led him to certain pronouncements about homosexuality, and more recently he has openly declared that on other subjects he believes the Bible got it wrong in lots of places. In particular he believes that each time the Bible says God struck someone dead because of their sin, this is actually a mistaken interpretation by the writers of the Bible.
In an article where I attempt to answer the question "What is an Evangelical" I outline what I believe is a fairly typical approach to the Bible. It is hard to see how Chalke would be able to uphold such a perspective on the Bible given his comments in his recent debate with Andrew Wilson.
An EA spokesman also pointed to the following article which explains their position on the Evangelical approach to Scripture, which most outside observers would agree seems different to Steve Chalke's approach.
I do think it is important to acknowledge that at times in the past the way that churches have approached the issue of homosexuality, and individuals who are gay, has been unhelpful. However, a group of evangelical pastors who describe themselves as experiencing same-sex attraction report that their experience is very different from the media caricature. They tell their story in the website Living Out.
Sam Allberry, one of the founders of Living Out and the author of Is God Anti Gay responded to today's news as follows,
Today's announcement from the EA is less about a particular stance on homosexuality than it is an affirmation of what Christians have always believed about the Bible – that it is God's clear and good word for us all. Their statement will be a great encouragement to the many of us who experience same-sex attraction and yet who hold to the classic biblical understanding of human sexuality. I'm thankful for their leadership and care in what must have been a hard decision. We need to hold to what has always been defining for evangelicals – the 'evangel', the good news of Christ's invitation to all broken and weary people to find true rest and satisfaction in him.
The reality is that there is a broad spectrum of views today among professing Christians about how followers of Jesus should approach human sexuality. Reading between the lines, what seems to have caused a concern to the EA is not so much Chalke's views, as his approach to the Bible, and the perception that he was campaigning for the whole Evangelical Church to change its doctrine.
To my mind the real reason Steve Chalke had to be expelled from the EA is that for some years now he has been approaching the Bible in a very different way to that which Evangelicals typically do. He approaches the Bible in very much the same way as a liberal or "Progressive Christian." I don't understand why Steve Chalke has wanted to persist in holding onto the label Evangelical when he doesn't really look like one. It just seems to me that if something walks like a duck, quacks like a duck, and swims like a duck, we would be foolish to try and pretend it was a horse!
Evangelical Alliance Statement LINK

It is with sadness that the Evangelical Alliance have discontinued the membership of Oasis Trust.

Having heard the concerns expressed by the Alliance's board and council as to what has been perceived by some as a campaign to change the Church's historic view on human sexuality, the Oasis board did clarify their position as having 'no corporate view on this matter'.

However they were unwilling to fulfil the council's request to adjust the content of their website/resources and social media output to equally profile the traditional Christian view.

After many months of prayerful discussion, the Evangelical Alliance council concluded that a relationship between an organisation and one of its members in which the member felt it could not comply with a reasonable request from council, was not tenable.

The Evangelical Alliance council remain deeply respectful of the work and achievements of the Oasis Trust and have a strong desire to avoid any unseemly dispute and to speak well of each other.
Oasis Trust's Statement LINK

"The Board of Oasis is deeply saddened by the decision of the Evangelical Alliance to remove Oasis from its membership. We would like to take this moment to restate our profound belief that the ethos, values and mission of Oasis sit firmly within the evangelical tradition.

"The Evangelical Alliance made its decision following comments by the Founder of Oasis, Rev Steve Chalke, calling for an open and generous acceptance of people with sexualities other than heterosexual as well as to affirm and support all those who seek to live within faithful, lifelong, monogamous relationships. When making these comments, he argued that they had come from a deep understanding of the overarching message of scripture and has subsequently written about the importance of moving towards a more affirming, compassionate, rounded and thoughtful approach to the Bible, humanity and sexuality.

"At no point has anyone within Oasis tried to impose the Founder's view on Oasis staff, volunteers or church members (let alone anyone else) and, as such, the board of Oasis continues to give Steve their full support in his quest to seek an open and honest conversation amongst the Church on these issues and on how to restore society's confidence in the Bible more generally.

"Since the publication of his article 'A Matter of Integrity' in January 2013 the Oasis board has been in an on-going conversation with the Evangelical Alliance. At their request, we have made several changes to our online content and believed that we had reached a point where both parties could be satisfied that our relationship would continue. We are, therefore, disappointed by their announcement but will continue to seek and enjoy a warm relationship with the breadth of the Christian Church in Britain and across the world, forming partnerships to lift people and communities out of poverty and exclusion, and seeking to demonstrate the love of God to all through practical service."