Pastors often find that special occasion sermons are harder to write and deliver than regular ones. I know that I was much more nervous myself about preaching for the marriage of a couple in our church last week than I am about preaching on Sundays. So, here is a set of notes on a passage that is sometimes reached for at a time like this. Hopefully if you are struggling for an idea for a wedding sermon yourself, this may spark some thoughts in you.
On the third day there was a wedding at Cana in Galilee, and the mother of Jesus was there. Jesus also was invited to the wedding with his disciples. When the wine ran out, the mother of Jesus said to him, "They have no wine." And Jesus said to her, "Woman, what does this have to do with me? My hour has not yet come." His mother said to the servants, "Do whatever he tells you."
Now there were six stone water jars there for the Jewish rites of purification, each holding twenty or thirty gallons. Jesus said to the servants, "Fill the jars with water." And they filled them up to the brim. And he said to them, "Now draw some out and take it to the master of the feast." So they took it. When the master of the feast tasted the water now become wine, and did not know where it came from (though the servants who had drawn the water knew), the master of the feast called the bridegroom and said to him, "Everyone serves the good wine first, and when people have drunk freely, then the poor wine. But you have kept the good wine until now." This, the first of his signs, Jesus did at Cana in Galilee, and manifested his glory. And his disciples believed in him. (John 2:1-11)
People attend a wedding because the bride and groom invite them. Jesus also attends weddings when he is invited.
1.Jesus loves weddings.

God presided at the first wedding between Adam and Eve, and the whole Bible culminates in a marriage between Christ and his church.
Jesus performed his first miracle at a wedding.
There was a World to save, but he chose to be at a wedding.
The day of a wedding is the beginning of the honeymoon.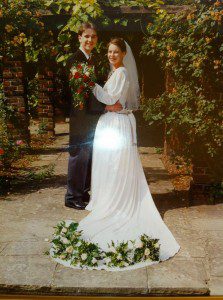 There has been a lot of work preparing, just as there was in the story I just read to you. It is the job of the best man and bridesmaids to make sure that the bride and groom don't get stressed! They have to deal with any problems.
Hopefully the wine wont run out today.
BUT, there is a day coming when the wine will metaphorically run out.
Keep the friendship alive, people forget to continue as friends. Becomes a functional concept and the fizz begins to disappear.
Keep the love alive. Love can wane and die but if fed it can grow and thrive and mature. Keep Christ at the center.
There are problems that we all have to face.
When you wake up one morning and the froth isn't there
When you feel a bit empty, a bit disappointed, even a bit let down.
You have a choice on that day: get angry and blame the other one for not meeting your needs: you could imagine the couple in this story saying "How could you have not ordered enough wine?" , or you can go to the One who can turn common water into wine.
When Jesus is involved in a marriage, it makes all the difference not just on the wedding day but for years to come. He must be invited daily.
I've been married to my wife for 19 years. People say the first 20 years are the hardest! So I told her we have only one tough year to go! Seriously, in all that time, I have let her down, she has let me down sometimes, but Jesus has never let us down.
2. Jesus is the great provider
He will make your problems his problems if you only ask.
He will carry you.
He will provide for you ABUNDANTLY – more than 100 gallons of wine (450 litres)
All he asks is that you "do whatever he tells you."
Many of you today are wondering what makes these Christians different?
Those four words in many ways sum it up. When the Apostle Paul wrote his letter to the Romans, he said this
"If you confess with your mouth that Jesus is Lord, and believe in your heart God raised him from the dead you will be saved."
See this article for more detailed explanation of this verse.
The word Lord, means master. We chose to follow Mary's advice and do whatever he tells us. We sometimes fail at that. But we keep going, and we ask him to help us.
The Word Lord also means God. Christians chose to worship Jesus as God. Why do we worship a man? Well the second half of that verse gives the answer:
We believe that God raised him from the Dead. So Jesus is not a dead hero, but a living master. And he is still telling us what to do today.
Why? Because he wants to provide for us. A life lived Jesus' way is the best way to live.
3. Jesus keeps the best wine to last
Some say, but being a Christian is boring. You have to give up so much. It is restricting.
Sometimes it does look a little bit like that at the beginning, especially when we are young. But, Jesus always saves the best wine till last. If you follow him, over time your life becomes sweeter. The older you get, the longer you walk with him, the more you will say "Jesus has been faithful."
And for the bride and groom today getting to this point has not always been easy. I am sure that each of them had moments when they wondered if they would make it this far. But as they have continued to follow Jesus, he has led them to each other. And for each of them, part of the best wine, which Jesus has been keeping for them is each other.
Jesus will provide for you whenever you feel the wine is running out. When times are tough he will be with you, and as you do whatever he tells you to, his presence will be near to you, and he will lead you as the psalmist says "beside still waters" and restore your soul.