Like many young men and women, I remember being quite anxious about finding my future life partner. I had no real serious relationships, until I had been at medical school for several years. Then there was a girl I dated for a few months, but to be honest I was not a very good boyfriend. We were both Christians, and yet didn't see eye-to-eye on so many things. We ended up rowing a lot. After a while, I think we both came to realize that being "unequally yoked" doesn't just refer to a Christian and non-Christian and so we went our separate ways. I was burnt a bit by the relationship, and worried more than ever.
One night I prayed about my future wife, and I felt God say that "As you are going about my work, I will bring you the person." Just a few months later, on a Sunday afternoon, I got into the back of my friends car to go preach and there were two young ladies also in the back. Quiet literally God had brought my wife to me as I was going about my normal business at the time of going to preach for him. Neither of us knew that straight away, but within a couple of years or so Andrée and I were married.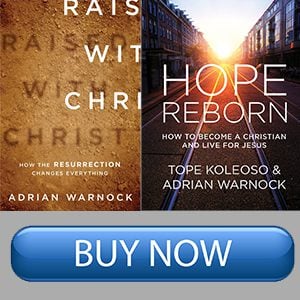 Poor Andrée had a lot to deal with in those early years. For a start this good Baptist girl was thrown in the deep end when the charismatic church I was attending was going through the Toronto blessing. That was a shock for her, but God helped her through it all.
But more significantly she realized that this passionate young man who was prepared to preach at Speakers Corner was also an angry young man. As I mentioned in a previous part, I would provoke theological controversy at every opportunity. She asked me once in frustration, "Why can't you just be normal with other people like you are when you are with just me?"
"Being normal" didn't come naturally to me. In some ways it still doesn't. But I thank God for Andree and the way she shaped me during those early years more than most people would ever have realized. She was and still is my best friend, and my best critic. Sometimes this would be amusing, like the time when she was sitting at the back of our then very small church while I was preaching and trying to signal to me to please slow down and look a bit less serious. As she was making faces at me that meant "smile" I was getting more and more perturbed and concerned which didn't have the desired effect. I think I even checked my buttons and zipper were done up at one point!
I am incredibly grateful for my wife in so many ways. I'd be lying if I said marriage had all been easy all the time. But she has put up with me, which is more than most people could. I have heard it said that the first 20 years of marriage are by far the hardest, at the time of writing we only have one more of those to go!
Seriously though, knowing Andrée has been the highlight of my life, and to see those five products of our love growing older in the love of God is a great reward. Here's to many more happy years together!
I am not a "normal person" and I don't suppose I ever will be entirely. But, thanks to Andrée, and of course the input I received from others who disciple me, I became less abrasive towards other people. I learnt how to be more winsome and less intense. I learnt that I didn't have to share all my thoughts with everyone that I met. I think that the advent of the Internet and then blogging was a godsend for me, as it gave me an outlet for all my witterings, so everyone around me didn't have to be deluged with them all the time!
---

Read the Rest of Adrian's Life Story

A good introduction to Adrian's life story pre diagnosis can be found in a TV interview which aired on TBN and in a multi-part series entitled "This is My Story"