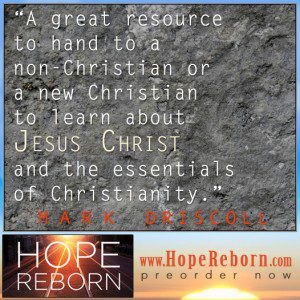 The Gospel itself is more scandalous than any of the recent controversies that have embroiled Mark Driscoll.
The Gospel is the scandal that God loves sinners like you and me.
The Gospel is the scandal that he keeps loving us when we fall.
The Gospel is the scandal that no matter how low you fall, Jesus can get under you and lift you up.
The Gospel is the good news that God never gives up on you.
As we learnt from Ann Voskamp, we should never get over the Gospel.
Many religious people do get over the Gospel, and they think they are superior to others.
The Gospel is good news for the rest of us, who know we are failures at times. It is good news if we are ashamed of some of the things we have said and down, and if we feel at the end of our tether.
At the core of the Gospel is the offer of a relationship with Jesus.
If there is one thing that characterised Mark Driscoll's ministry from the very beginning it is a desire for many people to find Jesus. He explains below one of the aims we had in writing Hope Reborn, which was that people would find it to be a useful resource to give to their friends and family members. Sometimes it can be hard to explain to people the way to Jesus. I trust that Hope Reborn may be another tool in our attempts to as Driscoll puts it "point people to Jesus"
This book is a great resource to hand to a non-Christian or a new Christian to learn about Jesus Christ and the essentials of Christianity. It is readable, biblical, practical, and helpful. This is a book to buy multiple copies of and have around to give away to people you want to point to Jesus.
Mark Driscoll – Founding Pastor, Marshill Church pastormark.tv
OVER TO YOU

How do YOU point people to Jesus?
What other tools or methods have you found helpful?

Please share your tips for helping people find Jesus below in the comment section.