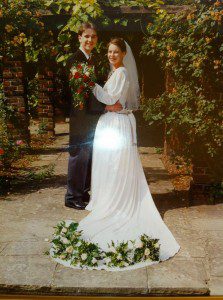 Today and yesterday I've spent multiple hours carefully completing a General Medical Council Revalidation Appraisal From. If you are a UK Doctor you will know all about this (or if you don't you better find out very quickly!) But for those of you who are not, this process is a very scary one as for the first time in my twenty year long career, I have to prove that I am worthy to carry on practicing as a doctor.
A big part of completing such a form is reflecting. This is something I have not typically been very good at. I rush from one thing to the next, doing the things people ask or demand of me, and occasionally finding the time to write something that I want to! But this process has forced me to look back on the last year especially, but it has got me into a framework of reflection more generally.
My first thought as I begun to think more generally was that as I look back on the last twenty years I have been a doctor I am incredibly grateful. I specialized in Psychiatry, and more recently medical research. I remember well how glad I was to have been successful at the exams, and how much I felt it was God who had enabled me. My career has taken many turns, but I am still a doctor all this time on.
Oddly enough, even as today and yesterday have been all about reflecting on my career for a GMC appraisal, tomorrow, as part of our vision day, we reflect on the history of Jubilee Church which I have also been a part of for twenty years. I praise God for both!
I have actually been a Christian for around forty years, so my life at Jubilee Church now constitutes half of my Christian journey. If forty years as a Christian has taught me anything it's that God is incredibly gracious, and gives us way more than we deserve.
In fact, twenty years ago within a single month of the summer I started work as a doctor, married my wife, & joined a very new church plant which would later become Jubilee Church London! A lot of important changes that month for sure. I am so very glad to be still with all three!
I've been with the same woman, same church, & same career for 20 years. But I have lost count of the number of jobs I have had. Don't love your work too much. Be faithful to your wife or husband, also consider being faithful to a single church unless the Lord leads you elsewhere. As I look back today over the last twenty years, I do have some regrets, but being loyal to the same wife, church and career are not among them
I've known good times and hard times in all those areas of my life. But through it all God has been faithful even when I have been faithless. Reflecting on the past in my family life, work, writing hobby, and church, fills me with hope and faith for an even better future for all! And the way God is faithful in the tough times inspires great confidence the next time a tough time comes around. Hardships have an end. Mourning is real, but it has a different feel because of hope. Blessings continue throughout them. And although Jesus promised we would have difficulties, he also promised to be with us in them.