Joy is not the absence of pain; it's the presence of meaning and intimacy [regardless of pain or sufferings presence].
Can you experience joy without having to first, or ever, experience suffering? Is it possible to reach heaven without having to venture through the wilderness?
---
Suffering, far too many times, I think, is the result of inaction; that is, doing nothing in face of pain or unexpected hardships.  It's when we can't find or don't have a reason to push forward that we tend to give up and allow hardship to win.
Taking this on from a different perspective: Joy is a constant choice in which we repeatedly make, day in and day out until it becomes a natural and habituated way of life. It's not simply a feeling; it's the underlying foundation of our very being.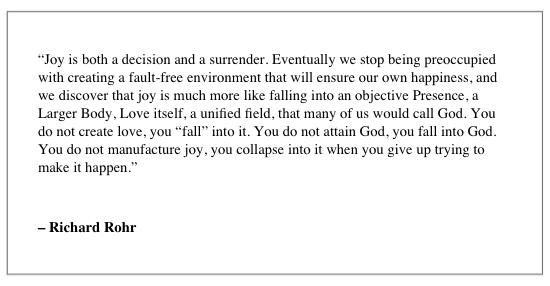 When talking about Joy and Suffering I can't help but feel, think, or be reminded of the Red Letters, the Gospels, and the life of Christ in which his Apostles emulated. More specifically I'm reminded of two verses…