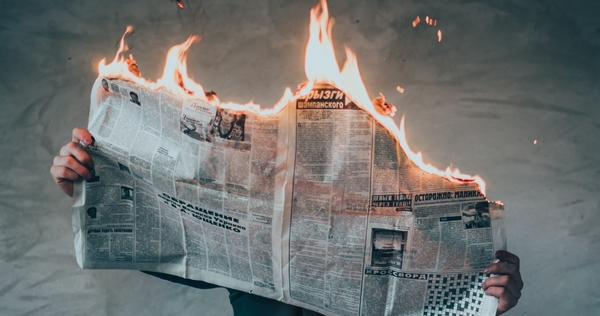 Let's begin with a story. In this story, I'm obviously a secular humanist, because I've set up, over a series of essays here, an emphatic appeal for more humanistic voices at the fore of the secular front. Specifically, I want more voices to counteract the anti-theistic stridency associated with many non-religious spokespersons. More voices highlighting what we share, across the spectrum, in our efforts to improve the lot of fellow human beings.
But then I read posts by others on Patheos who also identify as secular humanist, and I feel just a touch crestfallen by the reminder that labels are catch-alls, always.
Michael Stone, for instance, is the Progressive Secular Humanist. He identifies his stance as one that "entails self determination and the dignity and worth of all people." And being human, that's a rather tall order, so I appreciate that sometimes temper and incredulity will get the best of us all.
But his latest post, "Duck Dynasty Star Phil Robertson: No Need For Health Care Because Jesus", was such a perfect encapsulation of the range of responses under the secular-humanist umbrella that I couldn't resist the opportunity to use it to outline why this column does not do "hot takes"… and consequently, why this column doesn't have over 8900 shares for its posts, the way Stone's essay did at first publication of this post.
The news item is simple enough. Democratic-presidential-candidate Kamala Harris called for guaranteed healthcare for all estadounidenses. Phil Robertson of famous U.S. TV show Duck Dynasty was then asked his opinion on FOX News, and responded:
CAVUTO: But she's saying that other people who have been getting away with financial murder will pay for it, the rich, guys like you.

ROBERTSON: What I'm saying is that — Kamala, I already have health care. It's given to me by God. Eternal health care. I'm guaranteed to be raised from the dead. I have life and immortality given to me by God through Jesus Christ —

CAVUTO: But people get sick on Earth in human form. So, would you advise —

ROBERTSON: The temporary reprieve is not worth it. I'm telling her: I have eternal health care, and it's free. Doctors can give you a little temporary reprieve, but they cannot save you from physical death. The doctors who treat you, they die, too. […] I did not have any health care for 50 years and someone says (to me) 'now that you are rich and famous you can buy every kind of insurance known to man if you want to.' But I never needed it for 50 years so there you go.
Oh yeah, that's the chum of "hot take" columns everywhere, no? Because all the right triggers are there: Democratic vs. Republican stand-off, FOX News, religion, the taking of a TV celebrity's opinion on state policy as intrinsically of value.
And yet… we know what we're getting when we read an atheist column on this, don't we?
The Satisfying Outrage of an Atheist's Hot Take
How did Stone open his post on this issue?
The stupid, it burns: Duck Dynasty star Phil Robertson argues that people don't need health care, they only need Jesus.
And he doesn't mince words about Robertson later:
Robertson is an idiot. And a liar. There is no doubt that should Robertson require medical attention, he would seek it out.
He then runs down Robertson's odious list of beliefs, and summarizes his (absolutely repugnant) positions as:
In short, Robertson often slanders LGBT people while advocating child marriage. He is a moral monster for Jesus, a leading spokesman for the American Taliban, and a potent symbol of Christian hate.
Which leads us to the post's conclusion…
Bottom line: Duck Dynasty star Phil Robertson claims Americans don't need health care, they only need Jesus.
In short, we're… right back where we began.
So what did this whole exercise do, exactly, to advance humanism? We've built up our sense of outrage at something small-minded and inhumane… but is our outrage set upon the right target? Yes, a person with terrible positions said terrible things. But he was given a platform to say those things, so posts that simply prop up the fact that these awful things were said… are kind of doing FOX's work for it, stoking the fires of indignation that make much of its core audience eager to tune in.
More importantly, too, we secular folk need to remember that Robertson isn't saying such things in a vacuum. Indeed, there is nothing novel about his belief that the furious efforts of daily preparation are wasted, that they are not the "one thing that is needful".
That belief goes straight back to the Bible–and straight back to Christ.
Caveat: I'm Weak In This Regard, Too
Now, when I talk about our susceptibility to outrage, I don't exclude myself. Reading the Christian Bible, for me, is often an exercise in frustration, and sometimes I'll stew for hours over the idea that people could find value in what to me seems like horrible messaging from a humanistic perspective. I've written before about many of the moral flaws I find in Christ's stories–from his indifference to suffering a herd of pigs to die, to his advocacy for lying to get back into a master's good graces because faithfulness even unto money is necessary to secure real riches after death, to his racist valuation of non-Jews as "dogs", to his support for the slave system and general heightened valuation of masters and grooms being permitted to make whatever choices they will about the fates of workers/slaves and wives. (And don't get me started on how "Is it not lawful for me to do what I will with mine own?" [Matthew 20:15] gives so many prosperity-gospel Christians license to believe that they should have the absolute right to determine who gets charity, and when, and how!)
Suffice it to say, then, that while quite a few atheists still vaguely stump for Christ's moral messaging, I am… not one of those atheists. I think the raw text of scripture contains some pretty terrible foundations for contemporary humanistic practice. And the passage I'm about to highlight, to explain Robertson's beliefs about healthcare, is no different in this regard. Indeed, my first reaction, whenever I remember this passage's existence, is to grit my teeth at the idea that people could ever think Christ a champion of women when he so belittles, in this passage, the work that most often falls upon them.
So how do I get past it? How do I remember that the Bible is a text that many people find strength in for a reason, and from that place of understanding try my best to champion the best that people take from it?
It's not easy, so I empathize with Stone's reaction to stories like Robertson on FOX News.
I begin, though, by remembering what the character of Christ is himself given to believe about the purpose of his philosophy. This is a prophetic voice, after all, that believed the end was nigh; that the generation before him would not pass away before
29 …the sun [shall] be darkened, and the moon shall not give her light, and the stars shall fall from heaven, and the powers of the heavens shall be shaken:

30 And then shall appear the sign of the Son of man in heaven: and then shall all the tribes of the earth mourn, and they shall see the Son of man coming in the clouds of heaven with power and great glory.

31 And he shall send his angels with a great sound of a trumpet, and they shall gather together his elect from the four winds, from one end of heaven to the other.
So whatever collection of street-preachers' anecdotes are embodied in writings on the character of Christ, I can't really fault them for their indifference to changing society's core structures, and for truly being of their time when it comes to moral positioning on master/slave relationships, compassion for animals, tribalist rhetoric, and women. If the world's going to end soon, why bother with all of that social reform nonsense? Truly the only thing that really matters is readying for the apocalypse!
Next, I remind myself that no Christian is given these ugly passages to begin with. Rather, they are first taught, from the joy in their parents' faces and their communities of happy song and fellow feeling, to bask in the love and light (and sometimes, for more abusive congregations, the fear and the shame and the disgust at being human) of their friend-in-Jesus, this gracious deliverer of humankind from all its inner failings into the completeness and wondrous eternity of salvation.
So when Christians do come to these passages–often first through the mitigation of a spiritual leader–they are by and large already primed to look for the best in the worst of these passages. And that is where the hopefulness and constructiveness of humanist thought finds its place within religious circles, too. That is where we find people who, often having had no choice in their upbringing and cultural traditions, are now doing the hard work of making this text relevant in the wake of the failed apocalyptic prophecy that underpins so much of its moral logic.
And we need these religious humanists, my secular friends.
We need them because it is their interpretations of bad scripture, scripture that the likes of Robertson can easily lean on to advocate against social reforms, that have the best chance of turning the tide within the world's massive religious spheres.
Let's Talk, Then, about Martha and Mary
So Robertson doesn't believe that we need to involve ourselves in all this busy-work of preparing to better serve the people around us–in this case by legislating health care for all. And Christ is kinda on his side here, as we learn from how he handles being invited to the home of Martha, where Martha's sister, Mary, simply sits at his feet and listens while Martha serves. It's a short story in Luke 10, so I'm posting it in full:
38 Now it came to pass, as they went, that he entered into a certain village: and a certain woman named Martha received him into her house.

39 And she had a sister called Mary, which also sat at Jesus' feet, and heard his word.

40 But Martha was cumbered about much serving, and came to him, and said, Lord, dost thou not care that my sister hath left me to serve alone? bid her therefore that she help me.

41 And Jesus answered and said unto her, Martha, Martha, thou art careful and troubled about many things:

42 But one thing is needful: and Mary hath chosen that good part, which shall not be taken away from her.
Boy, how differently a Christ written by feminized persons today would handle this situation! Christ could have offered to help instead, because surely he could speak and plate at the same time? Why were there no kitchen miracles to go with his multiplication of loaves and fishes? How familiar this story is, too, for anyone who's ever been relegated to feminized labour while masculinized guests dismiss household-management (and how stressed out the women are while doing it), while enjoying the attentions of those with the freedom to be more present and therefore more fun.
Again, though, the New Testament's Christ believes the endtimes are near, so what's the point, really, of keeping the household running smoothly? Salvation is thus quite logically the more important bread to be served and consumed in this tale.
The problem is that, post-failed-apocalypse, stories like these now amply serve the ideology of the Robertsons of the world. Why do anything, really, to better serve people in our homes, when the end will come soon enough and the end is the only thing that really matters? Christ doesn't convey a lick of interest in or support for Martha's labours–so why should Robertson, when asked questions about the Marthas of our day?
And Yet… And Yet…
This is why we humanists who want a better world mustn't settle for the simple satisfaction of calling Robertson an idiot, or part of the "American Taliban", and for being outraged that "FOX News gunna FOX News". Because calling him an idiot is too simplistic, and entirely misses the far more important target for our humanistic practice.
After all, not every Christian reads the Martha and Mary story this way. Many of them use it far more parabolically, thinking simply of Martha and Mary as two halves of the same service coin (even though pretty much every positive analysis I've read on Christian sites has to go out of its way to say that obviously Martha's work matters to Christ to some extent… even though there's absolutely nothing in the actual passage to support such a reading). Many Christian groups use this story, too, to talk about something that atheists also struggle with: namely, finding a good balance between time for active labour and time for contemplation, and ongoing education.
Now, we secular folks could quarrel–as many of us do–over the "correctness" of such Christians' interpretations. And that would indeed be the stereotypical online-atheist response… because how thrilling it is, too, to join in any ready-made chorus of righteous indignation! I sure as heck will never get the same click-throughs for avoiding "hot take" outrage, but I completely understand why posts like Stone's are so satisfying to so many. (Especially those still wounded by the most toxic forms of religiosity–so no shade thrown to anyone who needs affirmation that rhetoric like Robertson's is destructive!)
However, if I can bite my tongue against my own hot-blooded frustration with the raw text of such scripture, and look at the best contemporary stories generated from these rough beginnings… here's what I find instead:
I find a body of discourse among many fellow humans who want to serve well, and are looking for answers as to how.
I find a story about the importance of taking time to listen, no matter how busy we might be in our own routines.
And from that story, I find an opportunity to share in the fruits of listening to our neighbours, and to discuss how best to put those fruits into practice in the social systems that we share.
For me, furthermore, this is self-evidently what a 21st-century secular humanist should strive for. But since many, far more prominent secular humanists employ the term far differently in their own practice, I can't simply rely upon the label to convey my meaning in this regard. Rather, I need to find a community of humanists who think as I do, and to gather and amplify their voices until our approach to secular storytelling is more often heard whenever one invokes the term.
…Just as so many Christian humanists have the responsibility to bring out the best in their faith traditions–always, of course, but especially whenever Christians like Robertson gain such a platform to advance the very worst that their Bible's stories can imply.