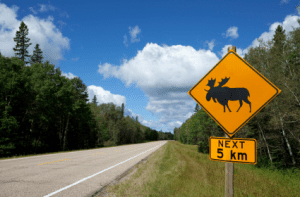 Zeke Pipher's sweet story of a lifetime of love that reminds me of my mom and dad:
On January 22, 2012, the Anchorage Daily News reported that Dorothea Taylor (85) was waiting for her husband, George, in a pickup. George was exercising their dogs in the fresh, crisp Alaskan air when a moose spotted him.

George told the paper:

"He was way off. He spotted me, and he started to come right after me. So I was trying to get to the truck. But I didn't make it."

Dorothea had been married to this bush pilot from Willow, Alaska for far too long to let a 1,500-pound deer (moose are the largest animal in the deer family) make her single.
So what happened when the little lady grabbed a shovel and went after that moose? Find out
here
. Now that's a
real
Alaskan woman!
(And…. may we all find that kind of love.)
Read more on the Faith and Family Channel, follow me on Facebook and this blog on Twitter!