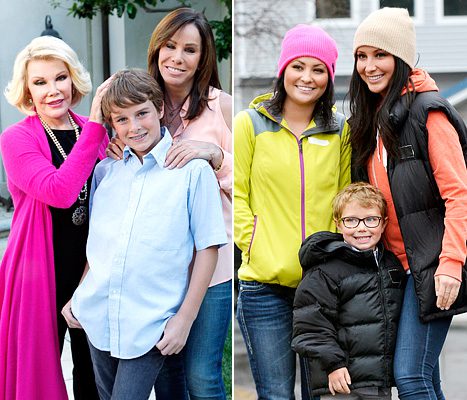 I appreciate all the love and comments I've been getting about my time on Wife Swap – it seemed like many of you really enjoyed seeing Melissa Rivers and me switching lives! Through Twitter and Facebook, I've gotten some questions about the show, so I thought I'd go through a few of them, starting with this one:
Question Number 1: "Why didn't you just go on Fashion Police?" 
Some viewers, it turned out, thought I wasn't being a good sport by not filling in on the show for Melissa.  Though I sort of answered that on the show, I'll take the opportunity now to explain a bit further.
I didn't want to be a part of the show, because I don't believe in judging people on how they look. I like clothes, and heels, and nice things, but I have no place to judge what other people wear on a red carpet.  In fact, I've been the subject of those kinds of conversations before.  I'm sure you all remember the negative things that people have said about me in the press. For example, when I was on Dancing with the Stars after the 2008 election, Joan took it upon herself to talk about the way I looked:
"She should not have been there. Instead of cha-cha-cha, she must have been doing cha-cha-chew. How did she dance for eight hours a day and manage to gain weight?"
She also said I was stupid, that I danced like her old horse, and that she hated me.  I'm reliving these old comments to show that I know personally how hurtful Joan's words can be.  And it's not just me.  Everyone goes through their own struggle with weight, skin, relationships… heck everything in life!
On the show, Joan Rivers talked about wanting to live beautifully if you could.  Well, we do have an opportunity to speak kindly and not so ugly.
Joan is a funny woman.  In fact, I laughed at some of her comments during the taping of Fashion Police and was impressed by how witty she was.  But the show is based on making fun of people's appearances. If I had gone on the show – even though I don't believe in judging other based on clothes, hair, and weight — it would be like having Melissa speak at a pro life event, even if she's pro choice.
Though it's easy to be entertained by things like that, it's not that funny being on the other side of the joke. Joan's humor frequently comes at the expense of other people – sometimes herself.  But let's not pretend it's a harmless activity.
Stay tuned for the next Wife Swap related question!
Read more on the Faith and Family Channel, fan me on Facebook and follow this blog on Twitter!