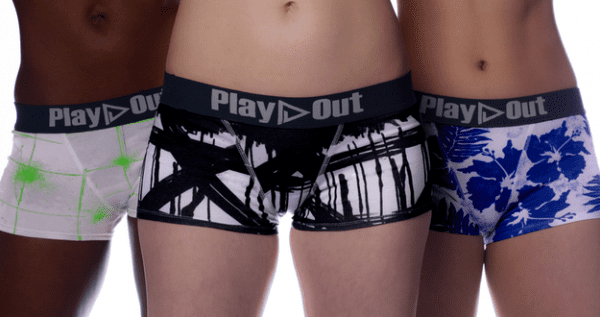 So glad someone finally thought of this…
Not really.
Two women had the bright idea to design underwear that is "gender neutral." They called their line Play Out and say it's "lesbian-inspired." They want to help people break out of the restrictions of having to choose between the two genders.
There are so many things wrong with this…
But here's one  — you can design patterns that appeal to both men and women, but how does the same pair of underwear fit women AND men?? I love the way this writer put it:
After all, the primary purpose of underwear is to keep the parts that differentiate males and females safe and covered and, despite the LGBTQ movement's protests to the contrary, those parts are different and thus require different casings.
Well, turns out the underwear styles in Play Out's line aren't really all that neutral… they still have men's and women's cuts. The website says that's so people can understand what they're buying, and so they can have styles of "underwear for every body type."
Which is another way of saying, "uh, we can't really make gender-neutral underwear; we just call it that."
Nice try, ladies, but you still can't get around anatomy!
Read more on the Patheos Faith and Family Channel, fan me on Facebook and follow this blog on Twitter!