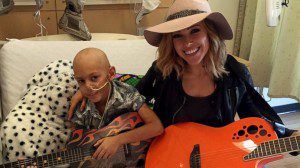 Need a good reminder today of what real courage looks like?
Watch this precious little boy sing a duet with Rachel Platten on her hit "Fight Song".  (Cue the water works!)
According to People:
Since being diagnosed with a rare form of cancer in May, 7-year-old Jeremiah Succar has had one tune stuck in his head – Rachel Platten's "Fight Song." 

Recently, the singer surprised the little boy at Children's Hospital Los Angeles after learning through social media about him. 

During her visit at the hospital, Jeremiah and Platten sang a flawless duet of his anthem while hanging out in his room. 
We all need a dose of this little boy's spirit today!
Read more on the Patheos Faith and Family Channel, fan me on Facebook, follow me on Instagram and follow this blog on Twitter!