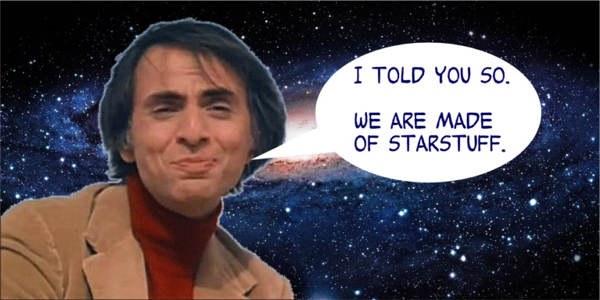 Universe Today has described the recent findings of NASA's airborne observatory, SOFIA, as more proof that Carl Sagan was right: "We are made of starstuff." For those who don't know, Sagan made this statement in his best-selling book Cosmos:
All the elements of the Earth except hydrogen and some helium have been cooked by a kind of stellar alchemy billions of years ago in start, some of which are today inconspicuous white dwarfs on the other side of the Milky Way Galaxy. The nitrogen in our DNA, the calcium in our teeth, the iron in our blood, the carbon in our apple pies were made in the interiors of collapsing stars. We are made of Starstuff.
Sagan repeated this statement in the evolution sequence featured in the 1980 television miniseries by the same name. Here's that clip:
SOFIA's reflecting telescope (which is equipped aboard a modified Boeing 747SP) is capable of making observations that no ground based telescopes are capable of doing. The telescope recently measured the "dusty leftovers" of an ancient supernova.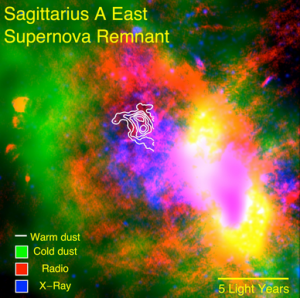 According to NASA, the discoveries were first published in an online issue of Science magazine on March 19, and Ryan Lau of Cornell University (the alma mater of Sagan) said:
"Our observations reveal a particular cloud produced by a supernova explosion 10,000 years ago contains enough dust to make 7,000 Earths."
These findings are significant. Astronomers have had evidence that "a supernova's outward-moving shock wave can produce significant amounts of dust." Nonetheless, they were not sure if the "soot- and sand-like dust particles" could "survive the subsequent inward 'rebound' shock wave generated when the first, outward-moving shock wave collides with surrounding interstellar gas and dust." And now they do. Lau continues:
"The dust survived the later onslaught of shock waves from the supernova explosion, and is now flowing into the interstellar medium where it can become part of the 'seed material' for new stars and planets."
This should be exhilarating for us all. Think about it. The atoms in your left hand were possibly made from the dust of a different star than your right. Isn't this more intriguing than any of our creation myths? The truth is always far more awe-inspiring than fantasy. All of this is further evidence that Sagan was also right when he said: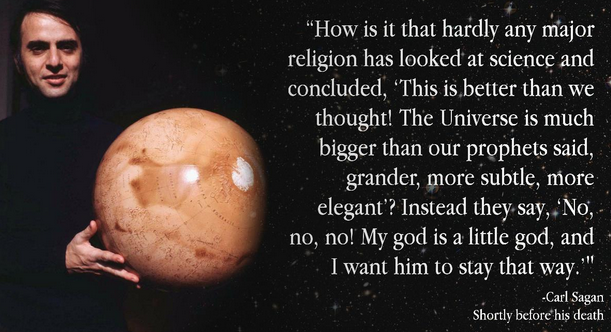 Be inspired my friends!