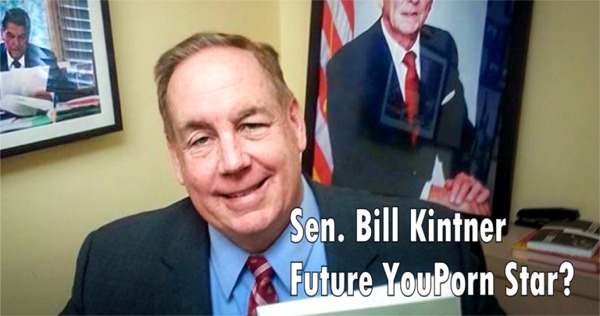 A little word of advice.
If you're into making sexual videos of yourself, do your thing. Have fun. Who am I to judge?
However, you might not want to keep a copy of it on your work computer. Even more so, if you are a senator and the computer is state-issued. And even more, more so if you are someone like Nebraska Sen. Bill Kintner.
You may remember Billy for his opposition to a law that would make it illegal to fire someone because of their sexual identity.  About "men in dresses," the Senator said:
When I go to San Francisco, sometimes I've seen some pretty weird things there. And I'm not that comfortable in San Francisco. But you know the difference between conservatives and my friends on the left? When I'm not comfortable someplace I leave. I go somewhere I am comfortable, I move to the state I am comfortable, I like it.
Further, he "argued that there are no problems with discrimination in Nebraska; that the Constitution allows people to violate gay individuals' civil rights; and that businesses should be able to 'make it known' if they don't want to serve LGBT people by providing them with bad service."
Kintner is also the guy who said that instead of offering legal status to Latino immigrants, President Obama "should emulate a 1954 crackdown on illegal border crossings that was known as 'Operation Wetback.'"
And, how about one more? In support of the capital punishment, Kitner
posted
a photo of a beheaded woman on his Facebook page.
Yeah, that guy.
Well, now the Governor of Nebraska, Pete Ricketts, has asked Kintner to resign after a person who was helping the Senator with a problem on his state-issued computer. The individual allegedly found a video of a "sexually explicit nature" starring Kintner.
Kintner initially said that he believed this "to be a potential internet scam" that happened when he was traveling to Massachusetts. However, now he has shut down his Twitter account and has gone silent.
So, now you know.
Follow Richard: Twitter, Facebook, RSS, Newsletter
Photo Credit: Facebook