Welcome back to this recurring feature at The Catholic Book Blogger. As a book reviewer I get access to early or hot off the presses books from many Catholic publishers. My goal is to share a few titles each post that have either just released or are soon to be released. These are books I am looking forward to reading and think you might be too.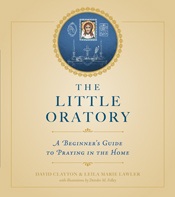 The Little Oratory: A Beginner's Guide to Praying in the Home by David Clayton and Leila Lawler
Release Date: Available Now
From the Publisher Sophia Institute Press:
Keeping a faithful prayer life with your family isn't easy. From herding distracted children to managing the seemingly endless litany of prayers and devotions, our spiritual life all too often feels frantic and burdensome.
This isn't the way it should be. Our prayer life, our family life, and our work life should — and can! — be in harmony. When they are, our family is a powerhouse of grace, and Our Lord transforms our home into a little Eden — a little bit of heaven on earth.
With simplicity and holy wisdom, authors David Clayton and Leila Marie Lawler show you how to bring peace to your home by integrating your family into the calm, truly joyful way of Mother Church. Her feasts and seasons, prayers and devotions are gifts that draw us closer to God and unfold before us His marvelous plan of salvation.
To help you live the liturgical life of the Church more fully, David and Leila reclaim here an almost lost tradition that families used for centuries to build a beautiful bridge between home and church: the little oratory.
Consisting of a modest table and icons, the little oratory is a visible sign of spiritual awareness and devotion. It extends the Eucharistic worship of the Mass into the heart of your home, spiritually nourishing your family and preparing them to transform the world through prayer and charity.
Building your own little oratory is simple, and in these pages you'll discover just how easy it is. In fact, you likely have most of the pieces in your home already except, perhaps, the sacred art. That's why we've included here seven full-colored icons that are ready for framing, enabling you to get started right away!
By following the wise advice in this book, you'll discover the peace and love that flows from a home that is focused on Christ. You'll also learn . . .
How to use sacred art to strengthen your prayer life.
How to extend Catholic beliefs and devotions into every room of the house.
Why the Liturgy of the Hours is important and how it can make your family holy.
How to pray the Rosary with children and keep the rowdiest of them calm and reverent.
The active role children can and should play in the prayer life of the family.
What to do when only one parent takes the spiritual life seriously.
How to overcome the feeling that you're too busy to pray.
Practical ways to extend the liturgical life into your workplace.
And countless other tips to help you practice your faith in the heart of your home.
_________________________________________________________________________________________________________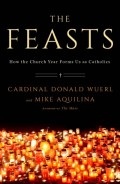 The Feasts: How the Church Year Forms Us as Catholics by Mike Aquilina and Cardinal Donald Wuerhl
Release Date: September 16, 2014
From the Publisher Image Books:
Every day is a holiday in the Catholic Church. In their latest collaboration, Cardinal Wuerl and Mike Aquilina examine the history and traditions behind both favorite and forgotten holidays, from Christmas to Easter, from the Solemnity of the Most Holy Trinity to the Feast of the Holy Angels. Catholic faith is festive, and the Catholic faithful count their days by celebrating the mysteries of Jesus' life. There is a message to be found in the passing of days, weeks, and seasons. Through the feasts, ordinary Christians learn the life of Christ, share it, and come to imitate it.
This book continues the work the authors began in their books The Mass and The Church, exploring the meaning and purpose of the most basic and beloved aspects of Catholic life. Each chapter uncovers the biblical origins and development of one of the great feasts or fasts — Advent, Epiphany, the Holy Angels, all the Marian feasts, and even this very day. The calendar can be a catechism for Catholics who know how to live it.
"The feasts form us," write the authors, "They help to make us and remake us according to the pattern of the life of Jesus Christ. We number our days as we walk in his footsteps, from his birth to his baptism, from his passion to his resurrection, from his Ascension to his sending of the Spirit to make us saints. We do this faithfully every year, and it defines us as who we are."
_________________________________________________________________________________________________________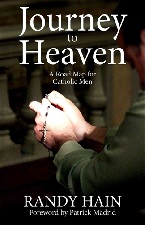 Journey to Heaven: A Roadmap for Catholic Men by Randy Hain
Release Date: Available Now
From the Publisher Emmaus Road Publishing:
Each hour of each day you are forming habits that shape your character and will determine where you will spend eternity. When your earthly life ends, it will be too late to change your destiny. In the midst of the hectic demands, busy schedules, and countless interruptions of every day, this book gives you the surefire, divinely instituted "apps" for becoming the man God wants you to be. Use them! Your family is counting on you.
________________________________________________________________________________________________________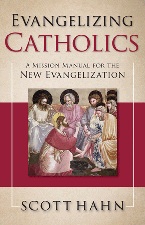 Evangelizing Catholics: A Mission Manual for Evangelization by Scott Hahn
Release Date: Available Now
From the Publisher Our Sunday Visitor:
You can't keep the faith unless you give it away.
That's a fact. To be a Christian is to be an evangelizer. When the Catholic Church calls us to a "New Evangelization," that's simply a reminder to us of what has always been true. The good news is: you can do it – you can evangelize – and Scott Hahn shows you how.
In this this very practical "mission manual" Dr. Hahn equips you with:
A guide to understanding what the New Evangelization is, and who it's really for

A roadmap that leads you to where it all happens (hint: it's closer than you think)

A simple, beautiful message to share – in words and actions
You don't need esoteric knowledge. You don't need to master a new set of skills. Evangelization, for Catholics, is simply friendship raised up to the highest level. Enter a deeper friendship with Christ, and you'll want to share his companionship more and more with a wider circle of friends.
_________________________________________________________________________________________________________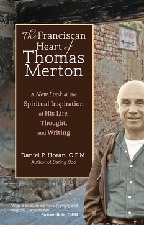 The Franciscan Thought of Thomas Merton: A New Look at the Spiritual Inspiration of His Life, Thought, and Writingby Daniel P. Horan, O.F.M.
Release Date: September 8, 2014
From the Publisher Ave Maria Press:
Daniel Horan, O.F.M., popular author of Dating God and other books on Franciscan themes—and expert on the spirituality of Thomas Merton—masterfully presents the untold story of how the most popular saint in Christian history inspired the most popular spiritual writer of the twentieth century, and how together they can inspire a new generation of Christians.
Millions of Christians and non-Christians look to Thomas Merton for spiritual wisdom and guidance, but to whom did Merton look? In The Franciscan Heart of Thomas Merton, Franciscan friar and author Daniel Horan shows how, both before and after he became a Trappist monk, Merton's life was shaped by his love for St. Francis and for the Franciscan spiritual and intellectual tradition. Given recent renewed interest in St. Francis, this timely resource is both informative and practical, revealing a previously hidden side of Merton that will inspire a new generation of Christians to live richer, deeper, and more justice-minded lives of faith.
Features & Benefits:
Horan lucidly demonstrates that as Thomas Merton is for us today, so St. Francis was for Merton.

2015 is the 100th anniversary of the birth of Thomas Merton.

Horan currently serves on the board of directors of the International Thomas Merton Society.

The papacy of Pope Francis has spawned renewed interest in St. Francis.

Horan frequently writes and blogs for

America

and is a regular contributor to

Give Us This Day

(Liturgical Press) and the

Huffington Post

.
_________________________________________________________________________________________________________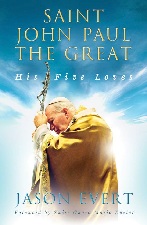 Saint John Paul the Great: His Five Loves by Jason Evert
Release Date: Available Now
From the Publisher Lighthouse Catholic Media:
A French novelist once wrote, "Tell me what you love, and I will tell you who you are." Although there are countless ways to study Saint John Paul the Great, the most direct route is by entering the man's heart.
Discover the five greatest loves of Saint John Paul II, through remarkable unpublished stories about him from bishops, priests who organized his papal pilgrimages, his students in Poland, Swiss Guards, and others. Mining through a mountain of papal resources, Jason Evert has uncovered the gems and now presents the Church a treasure chest brimming with the jewels of the saint's life. Rekindle your own faith by learning what (and who) captivated the heart of this great saint.
This brand new biography features never-before published stories of our beloved Pope John Paul II!
_________________________________________________________________________________________________________
Release Date: June 2014
From the Publisher Catholic Answers:
Father Leslie Rumble was the godfather of radio apologists and one of the Catholic media superstars of his day. During the 1920s and 30s his show helped millions of people understand and explain the teachings of Catholicism. Then his Radio Replies books—a three-volume set collecting the best questions and answers from his show—helped millions more, becoming one of the most beloved resources of the modern apologetics renaissance.
Now Radio Replies is back and better than ever! Catholic Answers has taken the thousands of questions from the original three volumes and pared them to a single volume that eliminates duplicate or dated entries. The result is an attractive and readable edition that makes Fr. Rumble's wisdom, wit, and witness more accessible than ever before.
From the Bible to baptism; from Christian morality to the marks of the Church; from the nature of man to the evidence for God in nature; Radio Replies is a one-stop shop for smart and sound information about the Catholic Faith. A must-have for every Catholic's bookshelf!
_________________________________________________________________________________________________________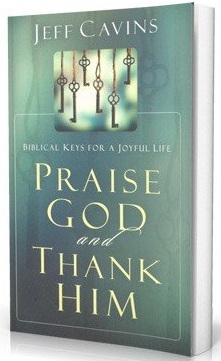 Praise God and Thank Him: Biblical Keys for a Joyful Life by Jeff Cavins
Release Date: Available Now
From the Publisher Servant Books:
When faced with difficulties, our response is typically poorer than we would like and is often a result of the way we were raised. But what if we could learn a new way to respond to the difficult situations of our lives? The Bible holds powerful keys to see our situations from God's perspective, and it is full of action items that can lead us into a deeper trust in God.
Cavins first focuses on what biblical praise is and how you can expand your praise vocabulary in order to face any difficulty life brings. In the second part of the book, he discusses thanksgiving, the attitude of gratitude that is the natural expression of praise. Jeff includes practical tips on incorporating thanksgiving into daily life.
Praise God and Thank Him will provide a scriptural understanding of praise and thanksgiving, along with how to practically apply both into your own life. You'll learn:
How to develop a vocabulary of praise

How to praise God in the midst of adversity

How a thankful attitude can change your day

How thanksgiving dispels fear and anxiety
You'll grow in your knowledge of the Bible as Jeff shares the keys to living a truly joyful life.