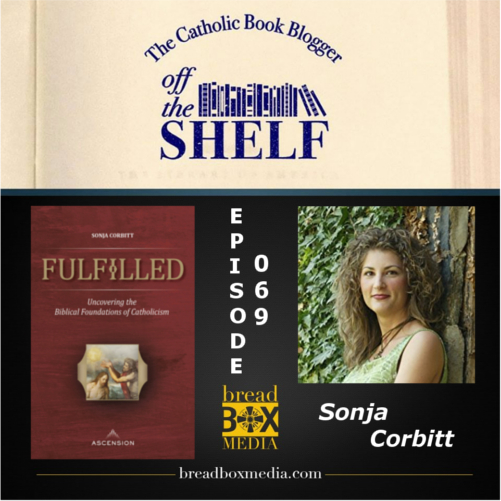 Sonja Corbitt is the Bible Study Evangelista and creator of the magnificent LOVE the Word Bible study method. She's a Catholic Scripture teacher with a story teller's gift—a Southern belle with a warrior's heart and a poet's pen. She is the author of Unleashed, Fearless, and Alive.
Sonja Corbitt returns to Off the Shelf this time to discuss her fascinating book 
Fulfilled: Uncovering the Biblical Foundations of Catholicism
. This book is PACKED with information and particularly focuses on the role of the Tabernacle. Sonja shows how the Old Testament layout of the Temple and it's components translate into what we see and do at Mass today.
Listen to Off the Shelf Episode 069 exclusively on Breadbox Media below.
You can be a part of our mission to bring quality content to Catholic's looking for something more than conventional Catholic media. Premium members receive exclusive discounts, deals and offers, up to 75% off select advertisers  including Rugged Rosaries, Sophia Institute Press, the Harrisburg Senators, Catholic Books Direct and others.
Become a premium member today by visiting the link on my page and I'll send you a Catholic Book Blogger Off the Shelf coffee mug as a thank you for your support of my work and Breadbox Media!

Click below to see my Off the Shelf show archives.

---